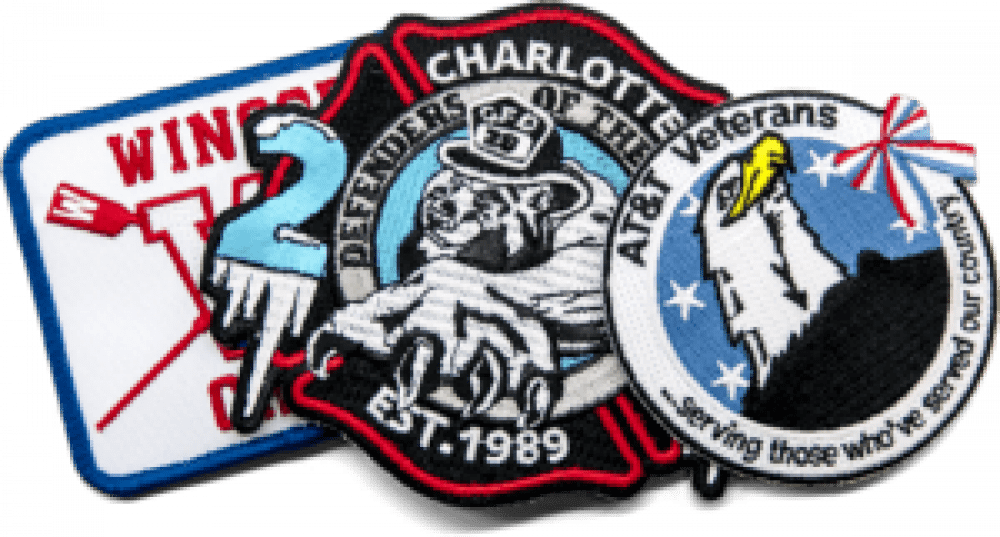 Custom Iron On Patches
Custom iron on patches have become increasingly popular in recent years, and it's not hard to see why -- they're affordable, easy to attach, and look great!
Custom patches are available with a variety of attachment options. The standard sew on style is the traditional method, but custom iron on patches have become increasingly popular in recent years.
It's not hard to understand why. Iron on patches are easier to attach to a garment than sew on patches, requiring little more than a suitable garment, an ironing board or similar surface, and a hot iron.
The ease of application is what makes the iron on patch popular. Like other embroidered patches, the iron on style starts with a twill backing material. The logo, text or insignia is embroidered with thread onto the twill. Once the patch is made, a heat-sensitive adhesive is attached to the back before it is shipped to the customer.
Iron On Patches Are Not for Every Material
Attaching custom iron on patches is easy, but there are a few pitfalls to be aware of. They should not be applied to stretch fabric, or any material that cannot tolerate the high heat setting of an iron. For this reason, cotton is an ideal garment material. It can withstand the heat from the iron and ensure a strong bond with the adhesive patch backing.
For other materials, different backing styles are more appropriate. Sew on patches can be applied to virtually any textile. Tape backing and Velcro attachment methods offer even more flexibility. Velcro backing allows quick, easy removal of patches for laundering or other purposes as well.
Even custom iron on patches can be sewn on. Some people prefer to do so, as a way of ensuring the patch will remain a permanent part of a garment, even through many launderings. The iron on backing, if applied before sewing, holds the patch in place for easy sewing without slippage. It's really the best of both worlds.
There are several aspects to consider when ordering custom patches, including patch size, shape, embroidery thread and backing colors, and yes, the type of attachment method. A reputable patch supplier will be glad to help you select the options that are right for your specific needs and application.
When you're considering a supplier for your custom iron on patches, look for value, not just price. Any patch seller can offer a low price, but the challenge is to back up their product as well.
Look for a patch vendor that offers free artwork and revisions. That way you can be sure your patch will look exactly the way you want it to before you finalize your order. And watch out for hidden "gotcha" pricing, such as added setup fees or shipping charges.
A reputable patch provider will always offer what-you-see-is-what-you-get pricing, with no unexpected extras. And you should expect them to back up their products 100%.
At Patches4Less.com, we offer our 100% Satisfaction Guarantee on everything we sell. If you should discover a defect in either materials or workmanship of any patch you purchase from us, we'll gladly replace it at no extra charge to you. That's what we mean when we talk about value.
---
Rick Cundiff
Content Director, Blogger
Rick Cundiff spent 15 years as a newspaper journalist before joining TJM Promos. He has been researching and writing about custom patches and other promotional products for more than 10 years. He believes in the Oxford comma, eradicating the word "utilize," and Santa Claus.