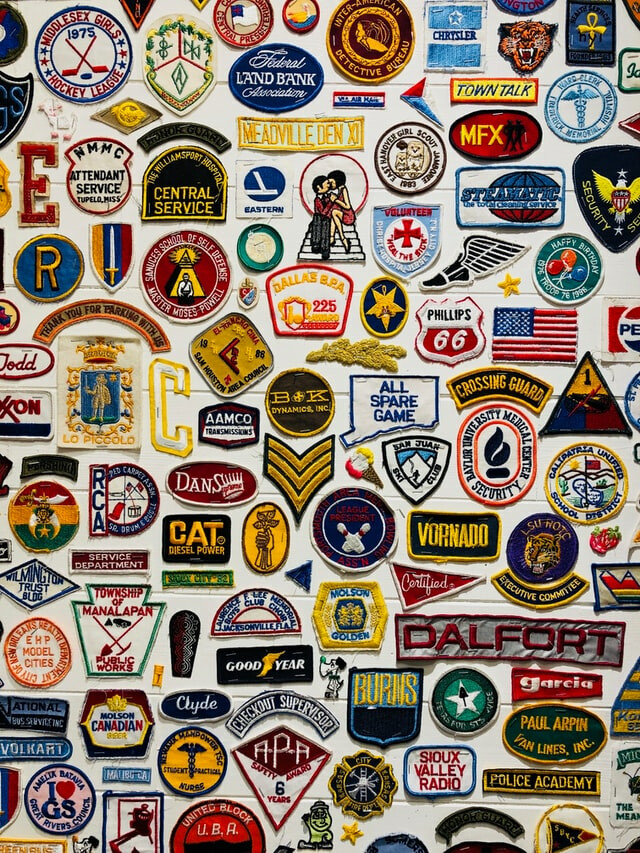 Jan 14, 2022
All The Details! The Features of an Embroidered Patch
What can we possibly say about embroidered patches that hasn't been said before? The apparel industry primarily uses embroidered patches due to their durability and details. When designing a custom...
Author: Jesse Daugherty
What can we possibly say about embroidered patches that hasn't been said before? The apparel industry primarily uses embroidered patches due to their durability and details. When designing a custom patch or working with a patch manufacturer, a few features will drastically impact the look.
A high-quality embroidered patch should be sturdy and visually appealing. They are the most common style for patches because they are vibrant and bold, easy to apply, and have a classic artistic look. There are several essential features of a quality embroidered patch that you should know before developing your own. Today we are shedding some light on embroidered patches and the essential elements that can help you make the best selection. Let's get into it!
The most important aspect of any embroidered patch is the layout itself. Do you want a text-based design? Or, do you want to include a character or image of some sort? Does your patch have color or shading? How many layers are there on the design, and is there a specific background color? These are all things to consider when choosing a style. These factors will work together to help you create a well-designed patch that can be worn with pride.
Embroidery percentage is essential to understand. It is also known as the embroidery thread coverage, basically the amount of area that will feature embroidery. Every patch doesn't need to be 100% embroidered. Reputable patch supplies will work with you, as they should recommend or consider using the correct percentage of embroidery coverage for your patch. The details and elements of your design will determine the embroidery percentage. Keep in mind, the higher percentage of embroidery increases the cost per patch. These decisions should be discussed before production.
The base layer for every embroidered patch is the twill. The twill should be durable and reliable. If it is weak, the threads will not stay in place, eventually resulting in a messy look. If your patch has several patterns, the twill will provide a firm base, holding the threads in place.
Once you have a design chosen and a twill base, it's time to think about the border of your patch. No matter what style of patch you are using, a border can impact the final result. There are two options for borders on embroidered patches, merrowed and hot cut.
The merrowed border is a classic look, originating from a machine brand that invented the overlock sewing machine. The border features a thread sewn around the patch in the overlock stitch style to seal the borders of the patch. This means your patch will stay clean and sleek while nicely concealing the edges.
On the other hand, hot-cut borders are great for patches with sharp edges and less intricate details. The border isn't visible, and the patch's overall look is limited to the design you share. If you are looking for smaller patches that will blend with the surface, hot-cut borders are your best bet.
Next up is the backing or attachment method. The backing is one of the most critical factors to any custom embroidered patch. We offer an array of backing options, including sew-on, iron-on, and Velcro.
Sew-on patches are applied by sewing them into place. Place the patch in its desired spot and sew it manually or with a machine. Iron-on patches are easier to apply, boasting an adhesive that melts when heated. Simply place the patch on the desired fabric and iron it until it adheres to the surface. For added durability, you can also stitch iron-on patches.
Last but not least, Velcro. By far the easiest patch to apply, Velcro backing also allows for easy removal. It also allows you to use the same patch on multiple items. Velcro backing also makes embroidered patches washable.
Embroidered patches should be durable. A good patch provider will use quality threads and fabric to produce high-quality patches. Embroidered patches should be bold, eye-catching, and reliable. At Patches4Less.com, we take pride in what we do, which is creating some of the best custom embroidered patches on the market. We combine our top-quality materials and artwork with rigorous quality control to produce the best patches available.
Not only will you find a variety of options, but we will also work with you to use these elements to devise the perfect patch for you. Free artwork, free revisions, free shipping in the United States, and a 100% satisfaction guarantee.
Find out more about our patches and call us toll-free at 866-847-2824 or fill out our no-obligation-free quote form. It's that easy.