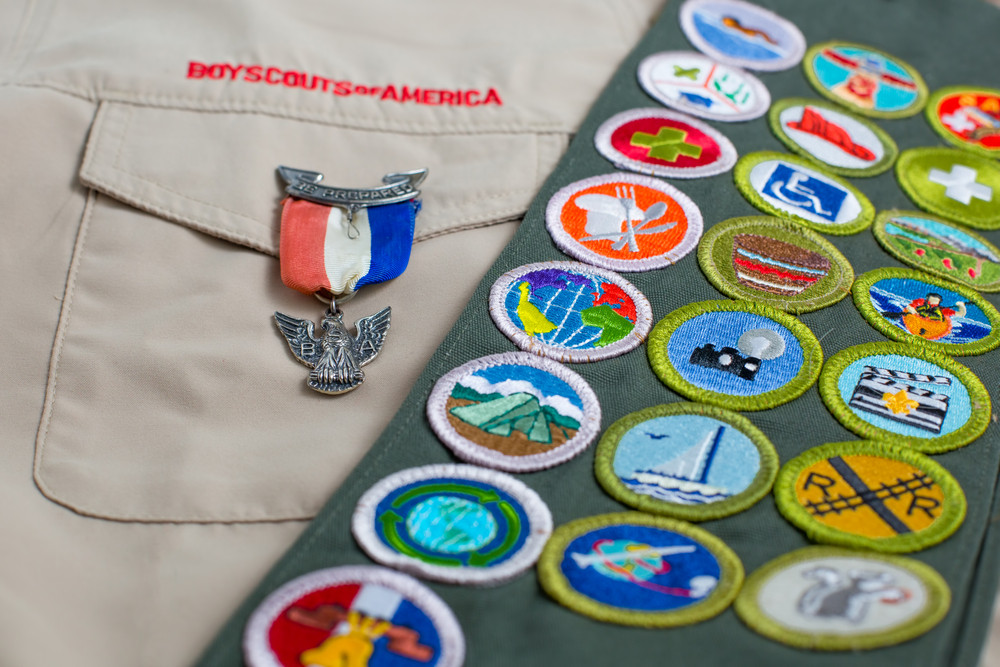 Boy Scout Patches Made Easy!
Are you concerned with how to attach Scout patches to your Scout's uniform properly? Well, with a little bit of planning, Boy Scout patch placement doesn't...
Are you concerned with how to attach Scout patches to your Scout's uniform properly? Well, with a little bit of planning, Boy Scout patch placement doesn't have to be complicated.
Any good embroidered patch provider will offer a range of attachment options for custom patches. Choosing a way that makes the task easier is a snap when you know a couple of tricks.
The most popular method of attaching patches to garments is by sewing them on. However, that is also the trickiest when it comes to aligning patches. It's easy for patches to shift and can be difficult to correct if not caught in time. If you are not proficient with a needle and thread, a tailor shop or seamstress is probably your best option.
But you have other options as well. Iron-on attachment is extremely popular. This means of attachment allows you to position a patch directly on a shirt or other garment and apply heat from an iron to melt the adhesive onto the cloth.
It's a much quicker process than sewing patches on. However, it can be less durable than sewn-on styles. For that reason, many folks choose the best of both worlds. Any iron-on patch can be positioned exactly as you want it, heat-set, then sewn permanently into place as well. The result is a permanent patch that is sure to outlast the apparel to which it's attached.
With either attachment, you can add plastic backing to the standard twill. This gives the patch a stiffer, more durable backing to make attaching the patch easier.
Other Attachment Options!
If you need a less permanent Boy Scout patch placement, Velcro backing is always a valid option. Using the standard hook and loop backing, this method allows quick removal and reattachment of patches as the situation warrants.
With some patches, button loops can be used for attachment as well. These can easily be slipped on or off of a shirt or jacket button as needed. No matter which way you choose to attach your Scout patches, the first step is finding a dependable patch provider.
Here at Patches 4 Less, we furnish the highest quality embroidered patches available anywhere, and at the lowest prices possible. You can also count on our signature customer service to ensure your satisfaction with your patches.
If you have any questions about Boy Scout patch placement, our experienced staff is here to help. We can advise which patch attachment type is best for your specific needs, and which patches are right for your Scout.
We also offer free setup, free art, and revisions, up to seven free thread colors, and even free shipping anywhere in the continental U.S.A. via FedEx Air.
Last but not least, we back up every patch we sell with our 100% Satisfaction Guarantee. Should any of your Scout patches be defective in either materials or workmanship, let us know. We will replace it at no extra cost to you. It's all part of our commitment to your satisfaction.
---
Jesse Daugherty
Blogger
Hello, I'm Jesse Daugherty, a music enthusiast, sports aficionado, and an avid supporter of the arts. I'm a writer and content creator. For the past 5 years, I've shared my knowledge of custom patches and other promotional products, exploring their designs, meaning, and purpose.