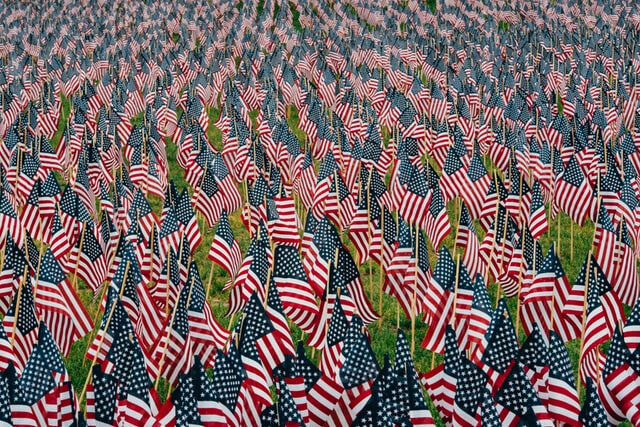 Celebrate, Observe, & Honor: Custom Memorial Day Patches
Memorial Day is a day we honor those who have sacrificed their lives for our freedom. On the last Monday of each May, we pay homage to those who have...
Memorial Day is a day we honor those who have sacrificed their lives for our freedom. On the last Monday of each May, we pay homage to those who have died while serving in the United States Armed Forces.
Memorial Day is observed through special ceremonies and events, celebrating soldiers in distinctive ways. Many traditions and festivities occur to observe those who have fought for the freedom we enjoy. Memorial Day is for remembering those who put their lives on the line. It can also be a day to praise those who continue to risk it all. It's a day to commemorate history while paying attention to the present.
Patches in the Military
Military patches are an essential part of the uniform for every member of the armed services. Soldiers wore military patches in the Civil War for identification, a tradition that continues today. Military patches also denote the branch, ranking, and specific accomplishments of troops in all units. Patches have a particular history in the military and can be used to mark the sacrifices of fallen comrades. Memorial Day is a day to reflect and remember those sacrifices.
Celebrating Active Duty Soldiers and Veterans
The day is to respect and remember those who have given their lives while serving in the military. It's an important day for remembering loved ones, their accomplishments, bravery, and dedication.
Military patches are a significant part of military life for anyone who has served in the armed forces. They display one's hard work and dedication, patriotism and spirit. Memorial Day is a day to reminisce, but it's also a day to observe the here and now. Custom patches have a special value for both veterans and active-duty members. They are a vibrant, dignified way to honor any soldier, past or present. Pay homage to those who have passed and let their legacy live with a well-designed custom patch.
The History of Memorial Day
The origins of Memorial Day date back to the end of the Civil War. Originally known as Decoration Day, it was initially a day of remembrance for the Civil War dead. Then, the day became a day of commemoration of U.S. military personnel who died while serving in the armed forces after World War I and World War II. In 1968, Congress officially changed the holiday to Memorial Day and the day to the last Monday in May. The new designation and date went into effect three years later.
Countless celebrations take place across the country on Memorial Day. It serves as the unofficial beginning of summer and includes parades, parties, and other festivities. One of the most iconic traditions is the ceremonial placing of a wreath by the President at the Tomb of the Unknowns in Arlington National Cemetery. Other occasions such as religious services, speeches, and commemoration events mark the day too. Popular Memorial Day festivities include Fleet Week in New York City and one of the largest parades in the nation, the Little Neck-Douglaston Memorial Day Parade in Queens.
The National Memorial Day Concert is another noteworthy occurrence. The free annual concert is a celebration of all service personnel. It features performances from the National Symphony Orchestra and the U.S. Army Herald Trumpets. The concert takes place on the west lawn of the United States Capitol Building in Washington, D.C. The occasion also boasts music, dramatic readings, and other performances to recognize members of the Armed Forces.
Traditions
Tradition is a key part of the military and Memorial Day. People observe the day in different ways across different regions. Practices are specific to certain areas, communities, and families. Several traditions occur across the country to respect and honor the fallen. National cemeteries across the country place American flags on the graves of soldiers. Elsewhere, personal items such as flowers, coins, and patches memorialize those who have passed. A custom patch is a vibrant way to pay homage to those who fought and died for our freedom.
Design A Patch To Remember
A custom Memorial Day patch is expressive, outstanding, and unforgettable. It will tell a story and commemorate the recipient. Custom Memorial Day patches incorporate details specific to each branch of the armed forces. They also contain other attributes that relate to the recipient. Logos, notable dates, and even the names of fallen friends and family are a perfect addition. A memorial custom patch is a thoughtful gift for family members of soldiers, active duty members, and veterans alike.
Memorial Day is a meaningful day for those who have lost friends and family serving in the military. Patches have a long history that plays an essential role in every military branch. They are a perfect way to commemorate those who gave everything. Find out more about the history of patches in the military.
---
Jesse Daugherty
Blogger
Hello, I'm Jesse Daugherty, a music enthusiast, sports aficionado, and an avid supporter of the arts. I'm a writer and content creator. For the past 5 years, I've shared my knowledge of custom patches and other promotional products, exploring their designs, meaning, and purpose.