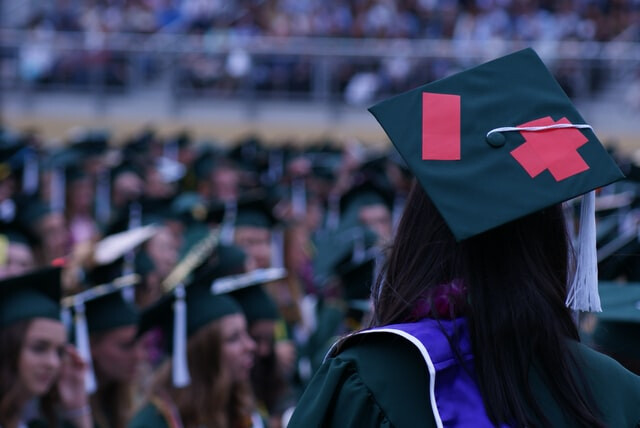 Apr 7, 2021
Class of 2021 Graduation & School Spirit Patches
Custom patches are a great way to add personalization to a shirt, jacket, or any garment. They are used to identify employees of a business, showcase club logos, and so...
Author: Jesse Daugherty
Custom patches are a great way to add personalization to a shirt, jacket, or any garment. Custom patches can be created to mark any occasion. With a new class of graduates getting ready to cross the stage and into a new phase of life, why not celebrate the moment with a custom patch? Patches are an ideal way to honor the class of 2021. No matter if you want to design something to add to your cap or a unique patch that shows off your school spirit, we can help!
Patches are nothing new for schools and other institutions. They can be seen on letterman jackets, sweaters, and more. Patches help foster school spirit and a sense of pride among students. Not only can they be given out for notable achievements in sports and academics, but they can also be used as awards for attendance and other special recognition. Outstanding school patches should include details such as mascots and school team names. They can also feature details about the student and their achievements throughout the year.
Patches can also be used to celebrate the senior year of school. Consider giving custom patches to seniors that include essential details about their academic careers. Not only will this provide recognition, but it will also create a sense of pride that will push students to do their best and continue their education. The versatility of patches adds to their appeal. Get creative and give students something that they can wear with pride and display for years to come.
Graduation day is a big day for any student. While the cap and gown is standard protocol, you can enhance this timeless look with a custom patch. Patches can be easily added to a cap or gown, adding a dose of color and personality. No matter the shape or size, you can produce a patch that offers a touch of style and character, which is the perfect way to end your school career. Do something unconventional and wear a patch that folks will never forget. It's your big day!
Custom patches are practical, cost-effective ways to mark a big occasion. At Patches4Less.com, we can bring your ideas to life. Ready to get started? We make it easy! Get a free quote or email us! We'd be honored to work with you to celebrate graduation or any other school event or function!