Create Custom Motorcycle Patches For The Pack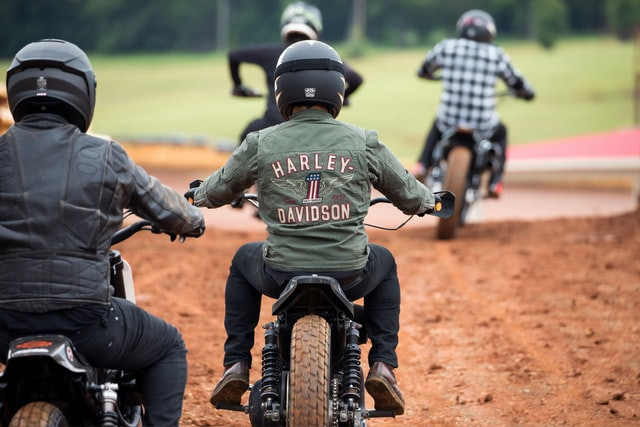 There is something about the open road. The thrill of adventure is why motorcycle enthusiasts of all stripes live to ride. One thing synonymous with bikers is custom embroidered patches. You can see custom patches just about anywhere these days. For bikers, motorcycle clubs and riders' groups, patches carry special meaning.
Designing custom patches for your gear, such as jackets, vests, hats, and more, isn't hard. No matter if you are looking for a large jacket patch or a full range of smaller patches for bags, backpacks, hats, and other gear, it's easy to create terrific looking patches.
Of course, jacket patches are the most popular option when it comes to custom motorcycle patches. These can be anything from a simple one-piece design favored by many riders' groups to the full three-piece style worn by members of so-called "outlaw" motorcycle clubs.
The traditional motorcycle club style features a large club logo in the center of a jacket or vest, with the club name on a separate "rocker" up top and a second rocker at the bottom noting the club's home territory.
If you're not a member of a motorcycle club with such a patch, do not attempt to wear the three-piece design. Clubs tend to be territorial, and don't take kindly to perceived interlopers on their turf.
Vest patches and jacket patches also can be smaller when worn on the front of the vest or jacket. These are a way to show a facet of a member's personality. They can include political statements, jokes and even tributes to fallen riders.
Custom patches also are ideal for motorcycle gear. Think about using custom patches on travel bags, hats, and gear. They not only look great and add character to your collection, but they also serve as a way to identify your gear.
You can order custom motorcycle patches with a variety of options, including custom shapes, metallic threads, and a choice of patch border styles. Your design is limited only by your imagination.
At Patches4Less.com, the customization options are endless, which means you can create a custom motorcycle patch that says and shows exactly what you want. We can create small patches for hats and bags or large patches for jackets and vests, and anything in between.
Are you ready to get started designing your custom motorcycle patches? We can help. Get a free quote or email us with any questions you have. Let us show you how easy ordering custom patches can be!