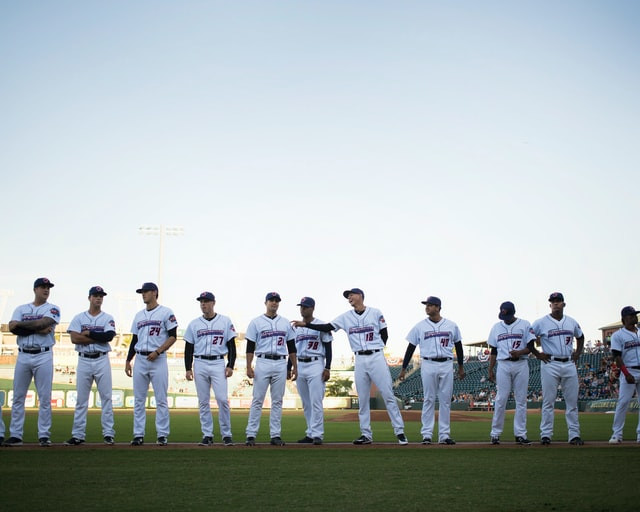 Custom Embroidered Patches For The Team
...
Custom patches are a big part of any team uniform. They add a touch of personality and character to uniforms. Custom patches foster team spirit and have a positive impact on team members.
Custom embroidered team patches can be seen on teams of all sorts from athletic teams and bands to community groups such as 4H and Boy and Girl Scouts.
Custom embroidered letter patches are the most popular for any team. The most popular use for team patches can be found on athletic uniforms. Custom embroidered patches personalize uniforms, and give a sense of unity to the team, coaches, and fans.
Custom letter patches can be seen on baseball, football, basketball, hockey, soccer jerseys, and more. But they extend far beyond athletics.
Other organizations, such as fraternities and sororities, use custom patches as well. Their logo and symbol are seen adorning jackets, sweaters, and hats. The custom embroidered patches generally feature names or Greek letters.
Custom patches can be seen on school uniforms, even on backpacks and special gear. Even school teams such as debate and chess teams can use custom patches. These patches often include school initials or last names while keeping a consistent look throughout.
Girl and Boy Scouts, 4H, and other organizations use custom patches on their uniforms as well. These patches typically include troop numbers and other information.
Some teams even give custom team patches to fans as rewards. Custom patches can be used to give back to those who support your team. It's no secret that custom embroidered patches create a sense of team spirit.
At Patches4Less.com, our team of talented graphic artists will work with you to create the perfect patches for your team. Let us show you how easy it can be. Get a free quote, or send us an email with any questions. We'll be happy to work with you and your team!
---
Jesse Daugherty
Blogger
Hello, I'm Jesse Daugherty, a music enthusiast, sports aficionado, and an avid supporter of the arts. I'm a writer and content creator. For the past 5 years, I've shared my knowledge of custom patches and other promotional products, exploring their designs, meaning, and purpose.