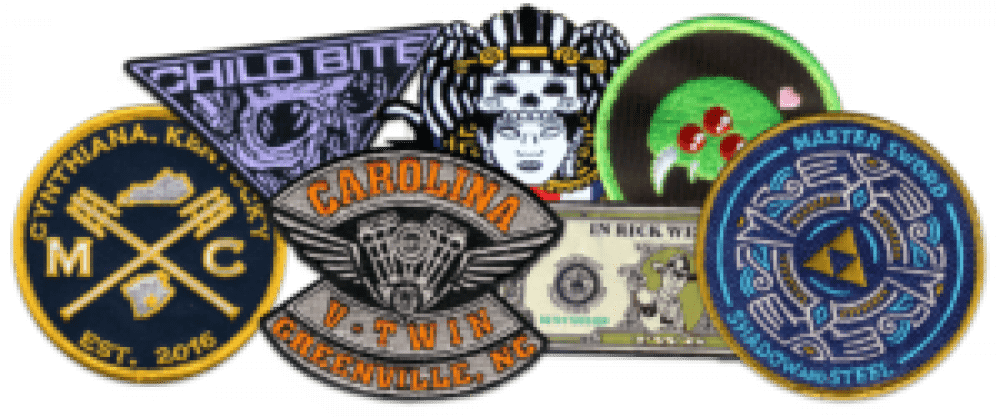 Custom Patches at A Price Everyone Can Live With
When you're shopping for custom patches, you want high quality and low prices. All too often, it's impossible to find both of those in one place. Patches4Less.com is your solution! We offer outstanding quality patches at unbeatable prices.
When you're shopping for custom patches, you want high quality ands low prices. All too often, it's impossible to find both of those in one place. Plenty of places offer high quality – at a high price. Plenty of other places offer low prices, but shoddy quality patches you don't want to be known for.
That's where Patches4Less can help! We are a provider of top quality patches. And unlike some of our competitors, we supply custom patches at prices everyone can live with.
How Do We Do It?
Well, for starters, we've been providing custom embroidered patches to satisfied customers for nearly 15 years. We've learned how to make them efficiently while maintaining the quality our customers have come to expect from us. We've created millions of patches for customers around the world. Our experience keeps our business growing, and our size enables us to pass great cost savings along to you.
We start with top quality embroidery thread and twill backing material. We don't cut corners on our products because we know it pays in the long run to use the best. You'll get durable, rugged patches that can stand up to even the toughest conditions. We didn't get to our position as a leader in the custom patch business by offering poor quality products.
We Hire The Best People
Everyone on our staff is experienced and talented in their field of expertise. Our graphic artists are second to none, and have won many awards for their work. Good people produce good products, and we're proud to say we have the best. They take pride in their work and it shows.
We Use State of the Art Embroidery Equipment
We create your custom embroidered patches using computer controlled high speed embroidery machines that are the industry standard. These machines ensure your patch design will be reproduced accurately and uniformly from one patch to the next. They don't drop stitches, they don't create gaps, and they don't misread your digitized design.
The Best People? The Best Equipment? Great, but it sounds expensive?
Not at all. They're exactly why we're able to offer our unbeatable, unbelievably low pricing. Our artists and production people know their jobs, and they work very efficiently. That increases our productivity, and we pass those savings on to you.
Our modern embroidery machines are unbelievably fast. They can run a patch order in less time than it takes you to read this post. They're reliable and accurate. Fast production and less downtime for us means lower prices for you.
We're confident enough in our pricing, that we make this simple statement: We will not be undersold. Period. If you find a lower price on identical custom embroidered patches, let us know and we'll match or beat it.
Unlike some companies that claim to compete on price only, we haven't forgotten customer service. We are committed to giving you the finest customer service you'll experience from any business of any kind. That's why we offer friendly customer representatives, free shipping anywhere in the continental United States, free design, artwork, and setup and up to 7 free thread colors per design. It's all to give you the best custom patch ordering experience possible.
So what are you waiting for? Call us today, toll free at 866-847-2824, or fill out our no-obligation Free Quote form to learn more! We look forward to serving all your custom patch needs!
---
Rick Cundiff
Content Director, Blogger
Rick Cundiff spent 15 years as a newspaper journalist before joining TJM Promos. He has been researching and writing about custom patches and other promotional products for more than 10 years. He believes in the Oxford comma, eradicating the word "utilize," and Santa Claus.