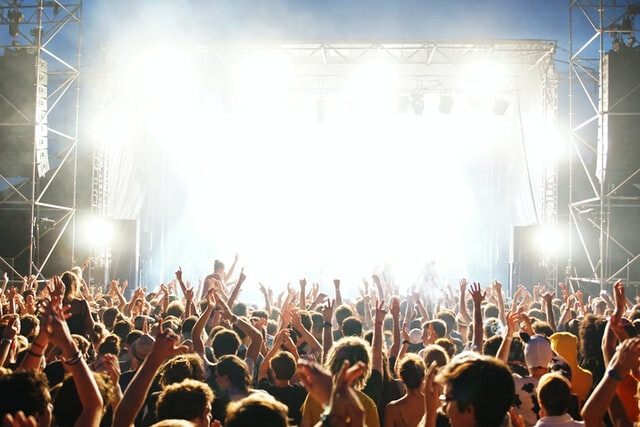 Custom Patches For Music Festivals & Live Events
More and more people are looking to return to normal. We're getting out and about once again, enjoying events, concerts, and festivals across the country. Music festivals are a big...
More and more people are looking to return to normal. We're getting out and about once again, enjoying events, concerts, and festivals across the country. Music festivals are a big draw, and many of us will be looking to enjoy our favorite bands live and in-person once again. With an increase in demand for live entertainment comes an increase in demand for unique merchandise. When it comes to music festivals or any other live event for that matter, it's all about promotion, marketing, and branding.
Much like any business, musical festivals and other events are always looking for innovative new ways to promote themselves. Patches are a perfect way to do precisely that. Designing a festival patch is an ideal way to raise awareness for the future. It's also a great way to provide mementos for attendees and fans. Be sure to create a design that can be placed anywhere. Regardless of whether you are selling patches or giving them away, make a durable patch that can be attached to any material.
Embroidered patches can easily be sewn onto clothes, bags, hats, pants, backpacks, and other garments. These versatile patches offer an incredible level of detail that will make your logo stand out. Custom patches are the perfect way to promote your festival and raise brand awareness at an affordable cost. While patches are great for festival-goers and fans, they are also great for staff uniforms. Patches are helpful when identifying members of your team. It's also a good way for attendees to find someone should they need any assistance.
Patches are seen on nearly any staff uniforms, from auto mechanics to security workers, police officers, and others. A simple patch can be a great addition to any uniform, adding a touch of professionalism to your staff's appearance. Simple details like this will help concertgoers feel safe and secure during any live event. Patches can even be used by the musical acts, bands, and groups performing at the festival. Many artists have a range of merchandise for their fans and festival attendees to purchase. A custom patch is a fitting addition to any collection, and it can be customized to honor the festival, tour, or venue. Artists and groups constantly create new ways to engage with fans, and patches are a tried and true method.
As we mentioned above, patches are a great way to market and promote any business or brand; and music festivals are no different. Once the show is over, and the fans return home, the custom patches will provide fond memories of a unique experience. When worn, the patches will become conversation starters, which will lead to a discussion about the music festival. This will build your brand and add a bit of credibility while raising awareness about what you do.
Here at Patches4Less.com, we understand the benefits of a well-designed custom patch. With over fifteen years of experience designing and producing patches, we know what kind of impact they have on businesses and brands. We have created patches of all sorts. From police officer uniform patches to patches for musical festivals and other live events. We know what works and what doesn't work. We understand what catches people's attention and what details are essential to your supporters and fans.
When you order patches from Patches4Less.com, not only are you getting outstanding products, but products crafted using only the best materials available. If you are looking for the perfect custom patch, we can make it happen. Let us transform your ideas into a patch that can be worn with pride. Are you interested in finding out more about our patches? Give us a call toll-free at 866-847-2824 or email us. You can also get a free quote here. Let us show you how easy ordering custom patches can be.
---
Jesse Daugherty
Blogger
Hello, I'm Jesse Daugherty, a music enthusiast, sports aficionado, and an avid supporter of the arts. I'm a writer and content creator. For the past 5 years, I've shared my knowledge of custom patches and other promotional products, exploring their designs, meaning, and purpose.