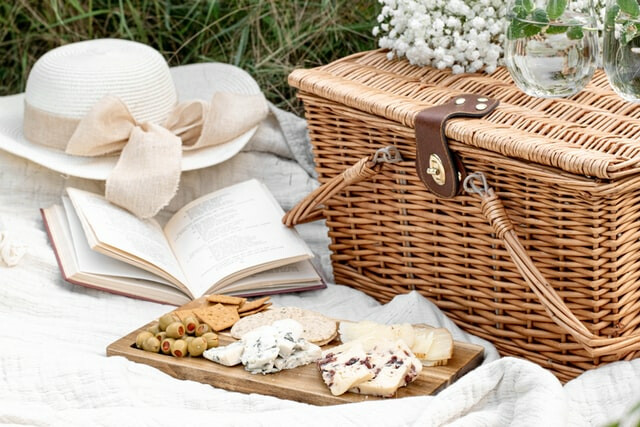 Custom Patches For National Picnic Month
It's summer, the weather is warm, and people enjoy everything about the outdoors. July is the perfect time for a picnic, and in case you didn't know, it's...
It's summer, the weather is warm, and people enjoy everything about the outdoors. July is the perfect time for a picnic, and in case you didn't know, it's National Picnic Month. It's an ideal time to pack up some snacks and relish a great day of relaxing, indulging, and the great weather. Gather your favorite treats, and let's discuss unique ways to celebrate National Picnic Month.
The American Bakers' Association founded National Picnic Month in 1952. Since then, July has become a time for friends and families to head to their favorite parks to enjoy snacks and sunshine. Pack a bottle of wine, fruit, cheese, and smoked meats for a fantastic meal under the sky. July is also National Blueberry Month, National Horseradish Month, and National Peach Month, so why not celebrate them all with a wonderful picnic?
Picnic History
Picnics are nothing new. Picnics were popular in the mid-18th-century in France., and in many other countries as well. Today , the picnic has transformed. People now prepare meals for tailgating at events, afternoon getaways, and weekend camping trips.
Picnics usually include simple food such as sandwiches, finger foods, and beverages. It's less about the treats and more about spending time outdoors with people you care about. Picnics are an easy and fun way to spend a summer afternoon.
Celebrate With Snacks
There is no wrong way to celebrate National Picnic Month. Gather your best friends, prepare a selection of easy-to-eat snacks, and head to your favorite park. If you want to celebrate in style, why not create a custom patch representing National Picnic Month? Hand them out to your friends and attendees of your picnic. Add them to your picnic basket or your favorite hat. Custom patches are a bold and stylish way to show your passion for National Picnic Month.
When designing custom patches, create something that represents the celebration. National Picnic Month provides plenty of options to create something fun, unique, and memorable. Your patch design can include details such as picnic baskets, utensils, and outdoor scenery.
Add contrasting colors to make your design stand out, and don't forget to add important text. Include the date of your picnic, the location, or a fun slogan. Custom patches come in any shape or size, so get creative. Consider the role of your patch and design something that stands out and has meaning. You can even add the patches to apparel and accessories and sell them as merchandise.
National Picnic Month is here, and we are ready to eat! Pack up your favorite snacks and join your favorite people for an incredible day. Mark the month and share your passion for picnics with a remarkable custom patch. Take a look through our gallery for inspiration for your embroidered patches.
---
Jesse Daugherty
Blogger
Hello, I'm Jesse Daugherty, a music enthusiast, sports aficionado, and an avid supporter of the arts. I'm a writer and content creator. For the past 5 years, I've shared my knowledge of custom patches and other promotional products, exploring their designs, meaning, and purpose.