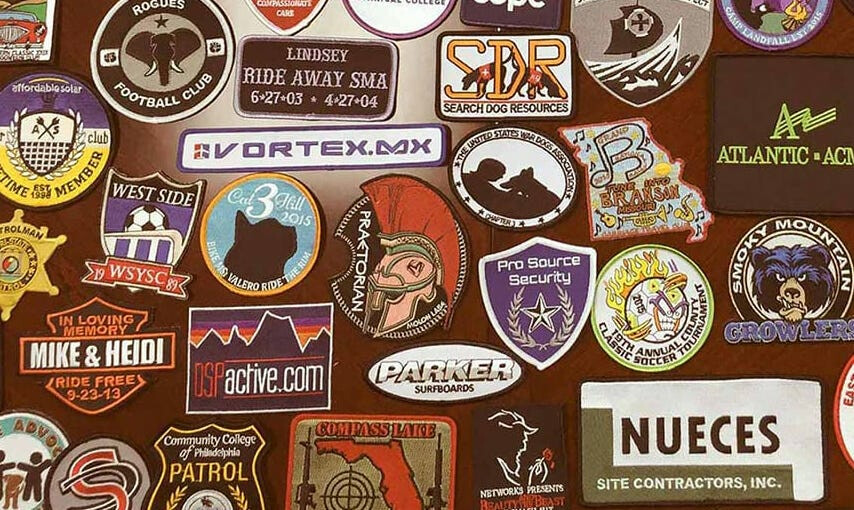 Everything You Need To Know About Velcro Patches
Not all patches are the same. When a patch is applied to a uniform, jacket, vest, or any other garment, it's meant to stay in place. But some jobs may...
Not all patches are the same. When a patch is applied to a uniform, jacket, vest, or any other garment, it's meant to stay in place. But some jobs may require employees to change clothes between jobs. This means that you need a patch that can easily be applied and removed to garments and accessories. Velcro patches, featuring a hook and loop backing, are ideal for precisely that.
Velcro is a company name that has evolved into the generic name for the hook and loop fasteners. Like other custom patches, Velcro patches can be created in virtually any size or shape you need. Not only do they look great, but they also provide a semi-permanent attachment that makes for easy removal. This is one of the reasons they are common on uniforms.
Work can be unpredictable, and you can't let anything slow you down, including what you're wearing. Velcro patches allow you to transfer patches quickly, and they have become a popular option. Velcro patches are an easy way to apply patches to any garment without any hassle. They are used by a range of professionals, from first responders, including police and firefighters, to military members and even plumbers and electricians. As you can tell, Velcro patches are ideal for various applications.
Velcro features a backing made from small hook and loop fasteners that attach to the fabric. The backing allows you to fasten and add patches to any fabric or material, which means you don't have to attach your patch permanently. Velcro patches have various uses, and how they can benefit businesses, brands, and others.
Businesses and companies use Velcro patches for roles that aren't permanent or for employees who have to wear identification tags. They may quickly be applied and removed, helping to endure the wear and tear of any job. They are also great for the military and other businesses with staff members who wear different uniforms on different days. Instead of placing patches on every uniform, Velcro patches let you use patches on other garments and accessories.
Velcro patches are durable and flexible, and they can be used for manager and supervisor roles such as managers. However, they are also great for military members, often used for morale patches that may not be an official part of the uniform. Not only do they look great, but they can also save businesses money in the long run, while for individuals, they allow you to wear your patches on different garments.
Velcro patches also tend to be a bit more reliable than other embroidered patches. Since they can be separated from garments and reused on others, they should be removed before laundry and reapplied once the garment has dried. This will keep the wear and tear to a minimum, resulting in custom patches that look great for years to come. Whether you are looking for Velcro patches for military uniforms or your employees, we can help.
At Patches4Less.com, we specialize in patches of all sorts. Custom Velcro patches can be created in any size or shape, boasting unique attention to detail and unrivaled quality. Are you ready to get started with your design? We're here to help! Call us toll-free at 866-847-2824 or email us with any questions. Ordering embroidered patches has never been easier.
---
Jesse Daugherty
Blogger
Hello, I'm Jesse Daugherty, a music enthusiast, sports aficionado, and an avid supporter of the arts. I'm a writer and content creator. For the past 5 years, I've shared my knowledge of custom patches and other promotional products, exploring their designs, meaning, and purpose.