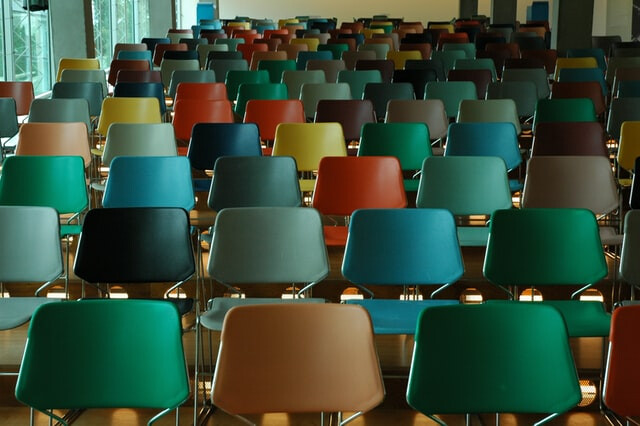 Jan 10, 2022
Higher Education! Creating Custom Patches For Colleges & Universities
We have discussed a wide range of ways to use custom patches. Patches are more than pieces of a uniform, as we typically see. Custom patches are impactful and can...
Author: Jesse Daugherty
We have discussed a wide range of ways to use custom patches. Patches are more than pieces of a uniform, as we typically see. Custom patches are impactful and can be used in a multitude of ways. Sure, many of us are familiar with patches thanks to employee uniforms, military uniforms, and even sports jerseys, but you can find them anywhere. They are even popular for colleges and universities, used by students, professors, alumni, sports teams, and clubs. Custom items such as hats, socks, pins, and shirts are popular, but custom patches are something different.
Patches are used in colleges and universities around the country to decorate clothing and accessories while showing off school pride and affiliation. Creating custom patches may seem daunting, but it's easier than you might imagine. You can easily create custom patches, and the best part is you have complete control over the entire process. Whether you know how you would use patches at your university or just looking for a unique way to boost school spirit, we can help. Let's take a deeper dive into creating custom embroidered patches for colleges and universities.
Patches are pieces of cloth or other material used to cover damaged fabric or decorate clothing and accessories. Patches can be customized in virtually any shape or size while featuring significant elements. College patches are commonly adorned with logos, mascots, emblems, crests, and specific colors. They are seen on sports uniforms to blazers, jackets, hats, and other apparel. Many universities sell generic patches that feature the university's name or logo. However, custom college patches can be designed with extra personality and style while still paying homage to the school or organization. You can personalize the design with an array of thread colors, styles, sizes, shapes, backing options, borders, and more.
Custom college patches can be created to represent the institution as a whole or for certain teams, groups, or clubs. Typically, custom patches are created for sports teams, sororities, fraternities, incoming newcomers, and alumni. The designs and styles vary greatly depending on the purpose of the patch and the recipients for which they are created. Let's start at the beginning, shall we?
One great way custom patches are used by colleges is to welcome first-year students. These students are excited about heading to campus for the first time, and they often have more school spirit. Newcomers can purchase merchandise to rep their school and show off their acceptance. Custom patches are great for incoming students looking to collect something that represents their membership in a university, community, or club. They can be presented to incoming first-year students as part of an acceptance package, sold in the school bookstore, or handed out during on-campus events. These small items will have a big impact on school pride and provide long-lasting memories.
College patches are also great for sports teams. While worn by team members, custom patches are great for the fans too. They are often sold as a commemorative item to fans while worn as a personalized touch on team uniforms. They are a great way to raise money while showing off their school spirit. Football teams commonly use custom patches, soccer teams, baseball teams, swim teams, track and field teams, hockey teams, and more. College sports patches are decorated with symbols of the sport and team mascots, school colors, and other elements. They are even used to celebrate the team's accomplishment or ranking, boosting team spirit campus-wide in the process.
Custom patches are also popular for sororities and fraternities or Greek-letter organizations. With over 750,000 undergraduate college students being members of college fraternities or sororities each year, they are used as a means of identification. These patches feature the fraternity or sorority symbol, making it easy to spot fellow members on campus and in the real world. Typically sorority and fraternity patches are seen on jackets, sweaters, or hats, though they can be applied to other garments and accessories.
Even alumni enjoy custom college patches. They can encourage former students to continue supporting their alma mater. Present them as a donation package or sell packs of patches at the university bookstore. You can also create limited-edition vintage-style patches that feature an old-school logo and mascot iterations. Creating custom college patches has never been easier.
At Patches4Less.com, we specialize in custom embroidered patches, and we make the entire process simple and fun. Just send us your design, whether it's a sketch or a fully-realized concept. We will work with you on the details, including the customizable aspect of your design. Choose from different packing options such as iron-on, Velcro, and others. Select a backing twill color and thread colors to make your design stand out. There are also a few border options and other upgrades, including metallic thread, neon thread, and more. Once those details are nailed down, our team will turn them into a beautiful patch that you can wear with pride.
Find out more about custom patches, the design process, and all custom elements, call us toll-free at 866-847-2824 or email us. If you are ready to get started you can also fill out our no-obligation free quote form. We'd be happy to help you create a great custom patch for your college or university!