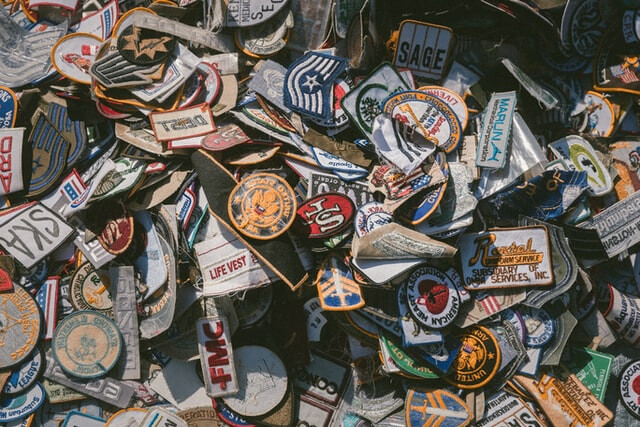 Jul 29, 2021
Interests & Passions! A Guide To Patch Collecting
Patch collecting is a hobby that continues to grow in popularity. Everyone collects something. From baseball cards to pins, even sneakers, watches, and yes, patches, we all have something that...
Author: Jesse Daugherty
Patch collecting is a hobby that continues to grow in popularity. Everyone collects something. From baseball cards to pins, even sneakers, watches, and yes, patches, we all have something that piques our interests. There is something for every collector, and many people find collecting patches to be a fun, enjoyable hobby.
Thanks to their colorful artwork and the vast array of designs, patches are a favorite collector's item. They are also easy to store and manage. From police and fire department patches to Scout Patches, and of course, military patches, there are patches for just about every interest imaginable. Today we take a deeper dive into patch collecting, examining who collects them, the history of patches, and where to find patches worthy of collecting.
Custom patches are nothing new. Logos, emblems, and symbols have been used since before the first century. Often they were used to show dedication to religion, family, or culture. Greeks, Romans, and Christians all used emblems that were symbols of their beliefs, and many wore badges to show the places they had been. Patches became more popular over time, eventually being collected due to the history and emblems. In the 19th century, the souvenir industry began creating consumer goods for people across the globe. Postcards, plates, pins, and yes, patches were used to remind travelers of their adventures and expeditions.
During the early 20th century, patches exploded in popularity used by folks to indicate the areas of the world they had traveled. This was especially common for hikers in Europe before gravitating to the United States. These days, patches are seen everywhere, offering bold, vivid reminders of the good times and the great places visited.
During World War II, patches and badges were sent home from American soldiers overseas. These patches were rare and became keepsakes for friends and family. In modern times, patches are seen on employees' uniforms, firefighters, police officers, members of the military, and more.
They are also used by motorcycle clubs, tourists, and others, even used as a way to accessorize our favorite garments. Now custom patches can be seen everywhere, used for marketing and branding, and team-building and celebrating accomplishments.
But who collects patches, and why? Most collectors start the hobby early. For example, Boy Scouts and Girl Scouts often trade patches during their involvement with the organizations. Many Scouts collect patches representing local or regional gatherings, while others collect from the nation and international branches. Those who start collecting patches early carry the hobby into their adult lives. Service members, both active duty and former, are often popular patch collectors. Veterans seek out unit patches related to their own service or those of loved ones and friends.
Each patch and unique design carries a special meaning unique to the soldier, past or present. Sports fans are often avid patch collectors, as are music fans who seek out individual patches for their favorite groups and bands. Collectors will also seek out designs for specific causes that look to bring awareness to different organizations. When it comes to those collecting patches, it's all about the interests and hobbies of the collector.
Now that we know who collects patches, have you considered how to find patches worthy of collecting? It's not hard to find patches and patch collectors. There are events around the country dedicated to patch collecting, including trading and selling custom patches. Scouting events, county fairs, flea markets, and swap meets are a guaranteed place to find patches worth collecting and trading. However, use your local resources and check surplus stores, thrift shops, and the like in order to find unique designs.
Another great place to find a vast selection of patches is through online groups. Enthusiast groups for custom patches and patch collectors are an outstanding resource, especially when getting your collection going. Antique stores are an excellent option; however, the real secret is keeping your eyes open to find the perfect design. Great patches can be found nearly anywhere, even in places you would least expect. Real collectors are always on the lookout, so keep your head on a swivel.
At Patches4Less.com, we have over fifteen years of experience crafting custom embroidered patches. We understand their significance, and we understand the passion for patch collecting. Our team of incredible designers has created patches of all sorts through the years, including unique shapes and sizes, and for all different purposes. We are a one-stop shop for all your custom embroidered patch needs.
Whether you are looking to design patches for your local sports team, employees at the office, or just a custom patch for your own use, we've got you covered. Interested in finding out more? Simply fill out our free quote form or email us. Let us show you how easy ordering custom patches can be!