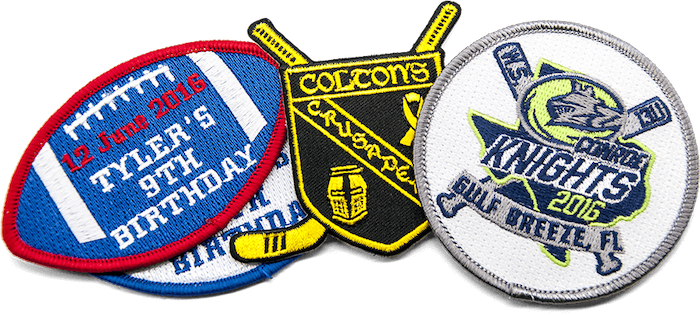 Make A Statement! Designing Custom Patches Made Easy
Patches are used for everything from club membership to making a statement. They can even be used to boost morale. Creating custom patches is easier than ever, and at Patches...
Patches are used for everything from club membership to making a statement. They can even be used to boost morale. Creating custom patches is easier than ever, and at Patches4Less.com, we know what it takes to produce an outstanding custom patch. No matter if you are looking for custom patches for your club or organization or simply looking to create something fun to hand out to friends and family, we've got you covered.
Producing custom patches has never been easier, thanks to our graphic artists and computer-controlled embroidery equipment. Creating embroidered products used to be a hand-crafted art form. Each stitch had to be designed one by one with a needle and thread. However, things changed when embroidery machines first arrived in the mid-1800s. Embroidery became much easier and more common, then by the early 1900s, the machines were motorized. Soon, paper tape readers allowed automatic operation, changing embroidery forever.
However, the computer revolution of the 20th century made embroidery even easier. Computer-controlled embroidery machines paired with microprocessors provided a massive step forward in creativity and production ability. These days if you can conceive a picture onscreen, the machine will sew-in. Custom embroidered patches were once expensive and rare. Now, thanks to modern embroidery machines, custom embroidery is available to anyone.
When creating a custom patch, there are few things to consider. What do you want your patch to do? Do you want a patch for employee uniforms? Are you looking for a patch that shows support to a local organization? Or, are you using custom patches to commemorate a special occasion? Once you determine the purpose of your patches, you can expand on your design.
However, with all the custom options, creating a custom patch can be overwhelming. If you are unsure of what you want your patch to look like, our graphic artists will work with you to create precisely what you are looking for. Another thing to consider is the size of your patches. Bigger designs call for bigger patches. More detailed and intricate artwork is better translated onto larger patches. This is important to keep in mind.
As we mentioned above, our team of artists and graphic designers can assist in what size patch will work best with your patch. Simple designs will feature 50% embroidery, which means 50% of the backing twill is covered. More intricate artwork will require 75% or 100% embroidery. This means that only a quarter of the twill will be visible or that your embroidery covers the entire twill surface.
Patches can also be made in virtually any shape you can imagine. Think creatively and produce something that showcases your personality and character.
At Patches4Less.com, we've designed custom patches for businesses, brands, companies, and organizations of all sorts. We know what works and what doesn't. With over fifteen years of experience, we understand the benefits that custom patches have in terms of marketing and promotion, and style. If your company is looking for an eye-catching way to stand out among the rest, consider starting with custom patches.
Ready to get started with custom patches of your own? Get a free quote or email us with any questions you may have. We'd be honored to help you create outstanding custom patches.
---
Jesse Daugherty
Blogger
Hello, I'm Jesse Daugherty, a music enthusiast, sports aficionado, and an avid supporter of the arts. I'm a writer and content creator. For the past 5 years, I've shared my knowledge of custom patches and other promotional products, exploring their designs, meaning, and purpose.