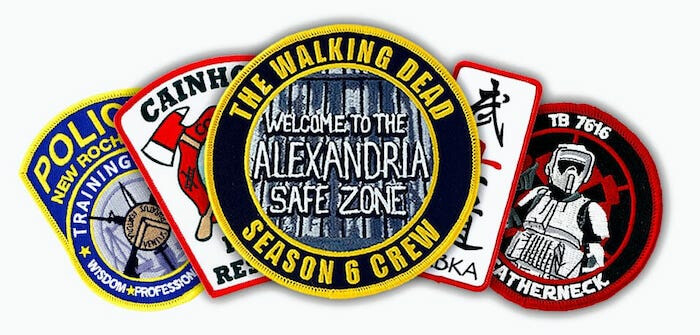 Making A Statement With Custom Patches
For centuries embroidered patches have made a statement. They were first used in the 1700s by soldiers who had them on their uniforms to denote their unit. Today, embroidered patches...
For centuries embroidered patches have made a statement. They were first used in the 1700s by soldiers who had them on their uniforms to denote their unit. Today, embroidered patches are still standard in the military and with first responders, sports teams, and businesses. Even now, they are used to signify rank, position, membership, and much more. Patches have evolved since their inception, and they have grown in popularity as a fashionable way to elevate any garment. Patches can be seen on shirts, jackets, pants, bags, backpacks, and hats. They are having a moment in fashion history and for good reason. Patches are a cost-effective and unique way to make a statement, and designers of all sorts have adopted them.
What started as a staple of military uniforms, patches eventually made their way to factory workers and then to the masses. In the 1960s, custom patches were used by counterculture elements as a way to show their beliefs. Protesters put peace symbols everywhere, including patches that were seen on jean jackets and caps. The patch was then adopted by hippies in the 1970s and expanded into the punk scene in the 80s. Patches became a way to stand out and demonstrate individualism. While the patch became a perfect fit for the counterculture, it wasn't long before patches made their way into fashion and style.
In these modern times, patches are seen as statement pieces on nearly anything. Patches are seen on the jackets and vests of motorcycle clubs and organizations. They are also used for the jerseys of our favorite sports teams, uniforms, and elsewhere. You can also find embroidered patches on backpacks and bags to add appeal and a bespoke look. Patches are also used by fashion brands through novel collaborations, creating bold patches that become highly sought-after. However, you can also devise patches of your own to say precisely what you want. Creating custom patches is a great way to add your own personality and character to any garment. The best part is the array of different options you have when creating them!
At Patches4Less.com, we know what it takes to produce an excellent patch. While we've created patches for businesses, brands, organizations, and even sports teams, we have also produced custom patches to make a statement. From fashionable patches to elevate your look or morale patches that aim to boost spirits, we have created patches of all kinds. No matter the shape or size, we can supply a patch that attracts attention no matter the detail. Not only are we committed to top-quality products, but we are also committed to top-quality designs and the best customer service on the market.
You can count on Patches4Less.com because embroidered patches are what we do. We are a one-stop source for all your custom patch needs. Our patches are ideal for everything from uniforms and jackets to pants, duffle bags, and other accessories. When you order from us, you can count on a high-quality look without the high cost. We also provide you with the flexibility of adding your customized patch to anything you choose. We even make ordering patches easy and effortless. Ready to get started on order? Get a free quote on your design or email us. Our team will be honored to work with you to create memorable custom patches you can wear with pride!
---
Jesse Daugherty
Blogger
Hello, I'm Jesse Daugherty, a music enthusiast, sports aficionado, and an avid supporter of the arts. I'm a writer and content creator. For the past 5 years, I've shared my knowledge of custom patches and other promotional products, exploring their designs, meaning, and purpose.