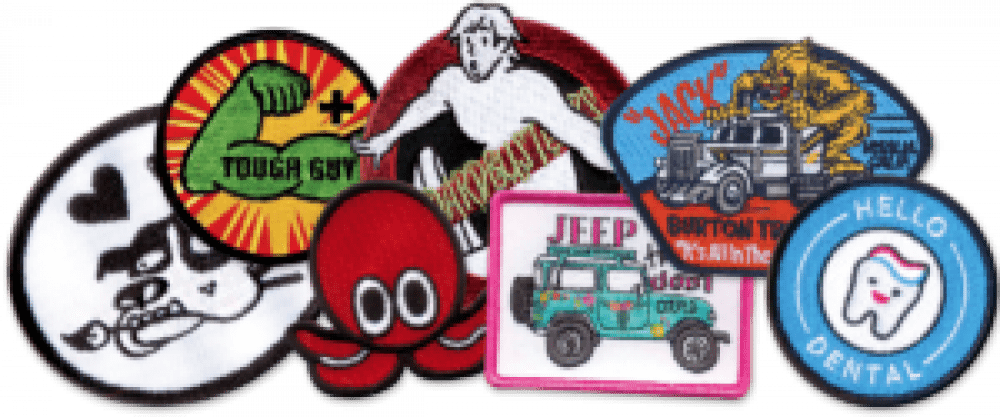 Marketing with Custom Patches
Businesses today are looking for every possible marketing advantage. Many are overlooking an unexpected asset – marketing with custom patches.
Businesses today are looking for every possible marketing advantage. Many are overlooking an unexpected asset – marketing with custom patches.
Custom embroidered or PVC patches can add marketing power to jackets, shirts, backpacks and other textiles. Depending on their size, they can be either bold or subtle. In a world full of advertising "noise," clever patches can be a way to cut through the clutter.
Don't believe it? Think about the last time you saw a classic rock and roll promotional jacket. You know the one. Black leather, a big patch, covering the full back of the jacket, showcasing the band's name and logo. That's an example of marketing with custom embroidered patches.
Small Patches Get Big Results
But you don't have to go big to get results from marketing with patches. Small patches can convey an important message and promote your brand as well.
A great example is the A.S.E. certification patch worn by auto mechanics who have taken the courses and passed the exam given by the National Institute for Automotive Service Excellence. That patch tells customers about an auto repair business that the person working on their car is highly qualified. It increases confidence in the repair facility.
Custom logo patches are also popular for hats and caps. The patches add a branding element and associate customers with a particular brand. Whether it's John Deere, Nike, NASCAR, Microsoft or many other brands, the patches announce the brand wherever the wearer goes.
Patches Add to Customer Confidence
Embroidered uniform patches are virtually a must for employees who enter other businesses or customers' homes. They reassure customers that the stranger at their door or front desk is actually there for a legitimate purpose. They also serve to reinforce your brand in a low-key way.
Custom patches can also be an effective giveaway item at trade shows, conventions, schools and sporting events. With bright, colorful artwork and design, they can be a fun collectible item. Even political campaigns use them as a way to remind voters of their candidates' name and campaign slogans.
Patches 4 Less – Your Extra Value Patch Supplier
If you're shopping for custom patches for marketing purposes, you can't go wrong with Patches 4 Less. We are your one-stop, no problem, extra value patch provider! We have a 15-year track record of producing great embroidered and PVC patches for satisfied customers around the world.
We've built our reputation on giving our customers top quality work, outstanding customer service and the best prices in the industry. We want to earn your business for life, not just one order.
As part of our commitment to value, we offer free setup, up to 7 thread colors free per design, free artwork and revisions and free shipping to any continental U.S.A. address. We use only the best quality embroidery threads and backing material for your custom patches. We use state of the art computer-controlled embroidery equipment to ensure consistent high-quality stitching.
That level of quality doesn't mean you'll pay a lot for your patches. We refuse to be undersold by competitors. Find a lower price on identical custom patches? Let us know. We will match or beat that price.
Of course, value means nothing without quality. We carefully inspect each patch before we send it to you. Even so, glitches do occasionally happen. That's why we back up our custom patches with our 100% Satisfaction Guarantee. If you find something wrong in either materials or workmanship of any patch you buy from us, we will replace it at no extra cost to you.
On top of all that, you get our renowned customer service. We want to make ordering custom patches fast, fun and easy. Our friendly staff will do everything we can to make your buying experience great.
Want to know more? Simply fill out our no-obligation Free Quote form, or give us a call (toll-free, of course) at 866.847.2824. When you're ready to add custom patches to your marketing mix, let us show you how easy and effective it can be!
---
Rick Cundiff
Content Director, Blogger
Rick Cundiff spent 15 years as a newspaper journalist before joining TJM Promos. He has been researching and writing about custom patches and other promotional products for more than 10 years. He believes in the Oxford comma, eradicating the word "utilize," and Santa Claus.