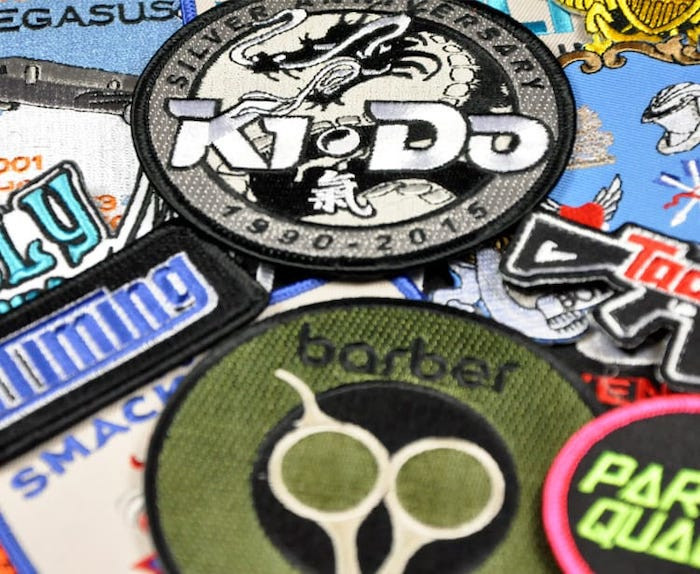 Mini Patches Make A Big Difference
Through the years, we have created patches in nearly every size and shape you can fathom. Some are big enough to cover the entire back of a motorcycle jacket, while...
Through the years, we have created patches in nearly every size and shape you can fathom. Some are big enough to cover the entire back of a motorcycle jacket, while others are as small as a quarter. There is no limit when it comes to designing and creating custom patches. Today. we take a closer look at mini patches and their uses.
When we say mini patches, we mean patches that are smaller than 2". Many of these patches are about one square inch of surface space, which means it's important to be creative and use all of the space available. Mini patches are ideal for uniforms, custom labels, and more, and they are just as customizable as larger patches.
Choosing a mini patch depends on how you intend to use the patch. Mini patches are great for school mascot or club member patches. They are also perfect giveaways for clubs, nonprofits, and churches. You can offer them as rewards for students, customers, and employees.
Mini patches can help establish your brand with your logo and more. Consider using them as labels for selling hats, bags, or clothing.
Use the shape to your advantage when creating custom mini patches. Instead of the standard geometric shapes, switch things up and create something unique. You need to get creative with the small space you're given, and a custom shape can make all the difference.
Having said that, keep in mind that the standard geometric shapes will give you the greatest possible area for text. Think about your design in terms of the total look. Can the shape say something without words? Or enhance what text you do have? Go for it!
The type of edging is important to think about when designing mini patches as well. There are two different types of edging for patches: Merrowed edges and hot cut edges. A merrowed edge needs to be embroidered around the entire border of the design. This is perfect for shapes like squares, circles, or shields.
A hot cut edge is created by using a hot knife to cut around the border of the patch design. This seals the border of a patch and stops stray threads from fraying. Hot cut edges are the best bet for mini patches. It creates a crisp, clean shape, and once again, gives you the greatest possible area for text or images.
When it comes to attaching mini patches, we recommend an iron-on backing. No matter their size or shape, iron-on patches can be secured in little time with a few household items. However, you can get the standard sew on backing, or a hook and loop backing if you prefer. But mini patches are much more difficult to secure in place. If you really want a permanent attachment, get the iron on backing, then stitch it into place once it's ironed on.
At Patches4Less.com, we have more than 15 years experience creating patches of all sizes and shapes. One thing we've learned is that sometimes a whisper gets more attention than a shout. Sure, you can make a bold statement with bigger patches, and there's certainly a place for those. But if you want to be a little bit more subtle, mini patches can make waves. When you want something that only people "in the know" will appreciate, mini patches are the perfect style.
Remember, custom patches are all about your style, not someone else's. Choose the right patches for your needs, and we'll work with you every step of the way to create exactly what you want.
Get a free quote on mini patches or email us with any questions regarding your design, sizing, and more. Let us show you how easy creating custom patches can be!
---
Jesse Daugherty
Blogger
Hello, I'm Jesse Daugherty, a music enthusiast, sports aficionado, and an avid supporter of the arts. I'm a writer and content creator. For the past 5 years, I've shared my knowledge of custom patches and other promotional products, exploring their designs, meaning, and purpose.