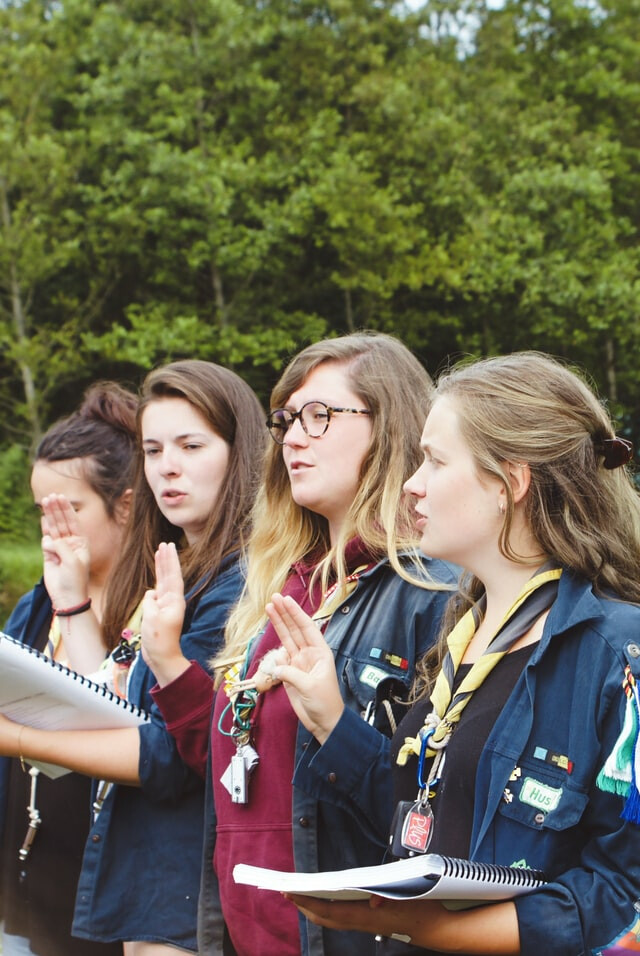 More Than Merit Badges! Boy & Girl Scout Patches
Custom patches tell a story. They can show people your hobbies and interests; they can also show membership to a specific group, accolades, and so much more. For Boy and...
Custom patches tell a story. They can show people your hobbies and interests; they can also show membership to a specific group, accolades, and so much more. For Boy and Girl Scouts worldwide, they are an essential piece of the uniform and hold special meaning for those who receive them.
For many of us, the knowledge of the scouts begins and ends with merit badges. The Scouts are a longstanding organization that provides valuable and essential skills to children. The merit badges are custom patches that symbolize the skills learned during a child's time with the scouts. But the merit badge system is a bit more complex than that. The Boy Scouts alone have more than 135 merit badges covering subjects from aviation to veterinary medicine. Earning them isn't easy. Scouts must demonstrate a specific level of knowledge in the subject they are pursuing. It's not enough to go to a scout leader and say, "I shot an arrow. Can I have an archery badge, please?"
While the story of the merit badge is one of the most well-known aspects of the scouts, their journey doesn't stop at merit badges. Scouts also create patches that commemorate important events, spotlighting the great work they've done and for several other reasons. When you are thinking about patches for the scouts, merit badges are just the beginning.
The Boy and Girl Scouts have been around since the early 1900s. Individual troops and chapters have their own start dates, which means each has its own birthdays and anniversaries to celebrate. The Scouts often celebrate these important dates with custom patches and other organizations. Milestone anniversaries are easy to observe, and making it through 75 years is a great reason to celebrate. However, if your troop is celebrating more than a birthday or other milestones, why not cover the two with one patch. Scouts also make patches that honor special events and get-togethers.
One of the most significant events for Scouts is the World Scout Jamboree. The founder of the Scouts, Robert Baden-Powell, saw the rising trend of the Scouts and how his ideas were quickly spreading around the world. He wanted a way to get all the Scouts from different countries together to celebrate. World War I put those plans on hold, but after the war, the first Jamboree was held. The event continues with Scouts from worldwide coming together for two weeks of networking, fun, and celebration.
Another crucial element of Scouting is volunteering and doing charity work. Both the Girl and Boy Scouts put importance on giving back. They choose charities, organize drives, and volunteer, which is a skill that many adults do not possess. Yet, as a Scout, you are likely to work with charities and the concept of giving back in a different capacity. Seeing patches created in honor of these subjects is part of the fun. Custom patches serve as a window into Scouting, which is something people value much more than a set of uniform or logo patches. Scout patches are a way to commemorate an essential and truly moving event. Whether your troop is heading to the jamboree or wants to honor a charity project, custom patches are a great way to stand out.
At Patches4Less.com, we understand the benefits that custom patches can have. Whether you are looking for patches for your troop or for your business, we've got you covered. We have over fifteen years of experience, and we understand what it takes to create a well-designed patch. We specialize in custom embroidered patches, and we love turning your ideas into tangible products that can be worn with pride.
If you are looking for top-quality patches without the high cost, you have come to the right place. To find out more about our custom patches or place an order, call us toll-free at 866-847-2824 or email us. It's that easy. Let's work together to create custom patches that you will be proud of!
---
Jesse Daugherty
Blogger
Hello, I'm Jesse Daugherty, a music enthusiast, sports aficionado, and an avid supporter of the arts. I'm a writer and content creator. For the past 5 years, I've shared my knowledge of custom patches and other promotional products, exploring their designs, meaning, and purpose.