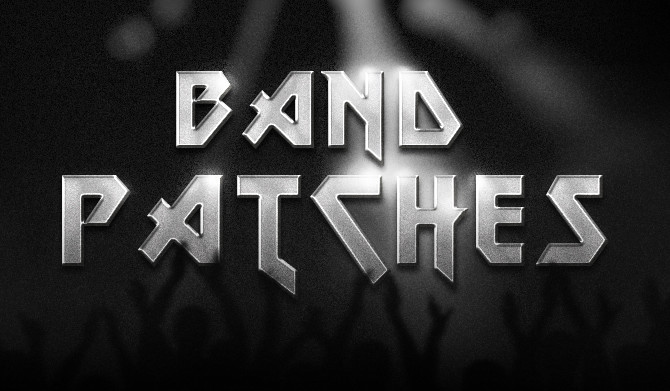 May 12, 2020
Promote Your Band With Custom Patches!
While t-shirts are a great staple, they just don't cut it anymore. Fans want options. Custom patches may just be the cure to your merchandising woes!
Author: Calder Dougherty

We know times are tough for professional musicians. Shows are no longer in the cards as whole tours have been cancelled and refunded. Bars, venues, and theaters have had to shut their doors to comply with new ordinances with no clear timeline on reopening. Playing live isn't just a fun hobby; for touring artists, this has crippled their main source of income, and the whole industry is scrambling to find creative ways to recoup costs. We know you're not living off of Spotify royalties, right?
Many artists are finding moderate success through livestreaming and selling their music directly to consumers through platforms like Bandcamp. However, merch is still king when it comes to cash in hand. While t-shirts are a great staple, they just don't cut it anymore. Fans want options.
Custom patches may just be the cure to your merchandising woes! While they're particularly popular in the world of rock and metal, artists of every genre have been branching out to offer these inexpensive alternatives. Patches are cheap to produce and highly customizable. If you know your fanbase well, you can easily target their wallets with a quick design sporting the right options.
Indie band with fashion forward patrons? A classic round iron-on patch with a merrowed border is probably your best bet, especially with 100% thread embroidery for a classy, expensive looking finish. Metal band looking to make it onto someone's battle vest? The traditional patches are 75% embroidered sew-on patches with a merrowed border. If you want to look professional, go with an iron-on that's hot-cut to the shape of your band's logo, however illegible it may be (looking at you, grindcore.) EDM producer offering VIP swag packs? Try a crazy hot-cut shape with metallic threads so that light always reflects off your merch to catch people's eye. Country artist with a big military and law enforcement base? We've got you covered too with custom Velcro-like hook and loop patches they can attach anywhere they need.
Patches are one of the cheapest promotional products you can have made -- especially at our competitive price point. Turn around and sell them for $5 to $10 a pop and you've already made a hefty return on your investment. At prices as low as these, you may even want to consider them purely for marketing purposes.
Artists with Patreons usually offer perks like buttons or stickers for their lower-tier subscribers. Why not give out something significantly nicer for the same price? Your fans will love it. They will always remember you went the extra mile to send them a high-quality thank you in the form of a custom patch. You can even mail them out as a secret bonus bundled with a t-shirt order! Both situations serve to ingratiate yourself with your fanbase by offering a unique gift they can use as a conversation piece to promote your band.
Organic reach through word-of-mouth praise from motivated, engaged fans is priceless -- or in this case, relatively cheap! Let our veteran staff of patch experts help guide you through the process of designing your custom patches today!