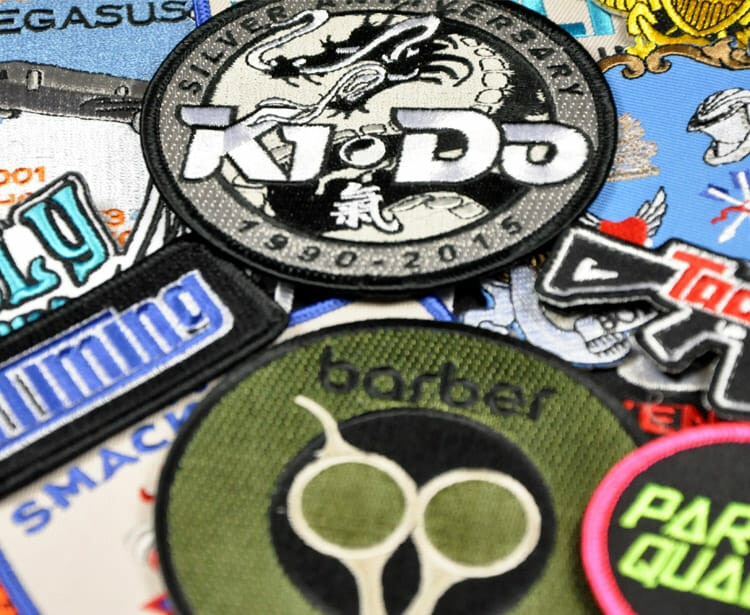 Aug 23, 2021
The Best Uses For Custom Embroidered Patches
Here at Patches4Less.com, what we do is custom embroidered patches. We love what we do, and we especially love transforming any design into an eye-catching custom patch. Through...
Author: Jesse Daugherty
Here at Patches4Less.com, what we do is custom embroidered patches. We love what we do, and we especially love transforming any design into an eye-catching custom patch. Through the years, we have created patches of all sorts. We've seen it all, from military uniform patches to custom patches for motorcycle clubs and even designs for police and fire departments around the country. We also love to find new ways that people are using patches. Today we take a look at a handful of excellent ways that you can use custom patches, from showing school spirit to supporting your favorite sports team. Read below and find out all the unique ways that you can use custom patches.
Some of our most popular patches are military patches. Patches are a necessary part of military uniforms both in the United States and abroad. Soldiers have worn patches since the Civil War, where they were initially used for identification. However, it wasn't until World War I that the first shoulder sleeve patches were created. Military patches are made for many reasons, including identification, as we mentioned above, but also for team building and camaraderie. Military patches are also presented for extraordinary achievements and promotions. They are cherished by those who receive them and have become collector's items for veterans and family members alike.
Law enforcement patches are quite popular as well. Much like military patches, police patches are used for identification purposes. These patches are generally found on the shoulder of the uniform, used to demonstrate authority and also to showcase the area that the individual serves. The patches are typically sewn on, though iron patches are quite effective as well. And, just like military patches, law enforcement patches are an integral part of the uniform. Police patches are also used as a way to commemorate those lost in the line of duty, becoming cherished keepsakes of friends and family.
Commemorative custom patches have grown in popularity over the years. They are a great way to honor fallen soldiers, police officers, and more. However, they are also a great way to raise awareness for special causes. Commemorate breast cancer awareness month, your favorite holidays, or even your favorite band. With custom embroidered patches, you have complete control over the design, and you can commemorate anything you want. These patches can be used on your clothing, bags, backpacks, or even in a frame, putting your passion on display for the world to see.
Any organization can also use custom patches. Patches are a great way to raise awareness for a specific cause; however, they can also be used as fundraisers. Local organizations such as fire departments already use patches on their uniforms. But you can create a custom patch for any organization, whether it's a book club, a political organization, a small business, or any other group. Custom patches are even a great addition to any merchandise collection. Get creative and design something that shows your organization's personality and character.
Sports patches are something we are all familiar with. No matter what sport you follow, you will see patches adorning player's jerseys. No matter what sport, or age group, or whether it's a club or city league, a custom patch shows team spirit and builds camaraderie among the players. Custom patches can be seen on soccer jerseys, baseball uniforms, even football, and basketball jerseys. They differentiate each team and showcase the squad's personality and attitude flawlessly. We have even created large mascot patches that are full of color and detail.
When we think about custom patches, we think motorcycle club patches. We've all seen those leather jackets draped in unique embroidered patches all over them. Motorcycle club patches showcase the club's logo and their home territory, and other important information. However, they can also be created as a way to showcase a rider's hobbies and interests. While custom patches are ideal for jackets and vests, they can also be attached to travel bags, hats, and other accessories. Get creative and add some character to your look, do so with custom shapes, metallic threads, and other unique options that will make your patches stand out.
Another popular use for custom patches is on the bests of Boy and Girl Scouts. These patches adorn the sashes of members, symbolizing achievements and accomplishments of all sorts. Scout patches are presented to scouts who have mastered specific skills, offering a symbol of their achievement. These patches are held in high regard by recipients and also foster camaraderie among members. Scouts take pride in their accomplishments and especially in their patches.
Now that you have a better understanding of the versatility of custom patches, why not order some of your own? We can assist! Just fill out our free quote form or email us your design. Let us show you how easy ordering custom patches can be!