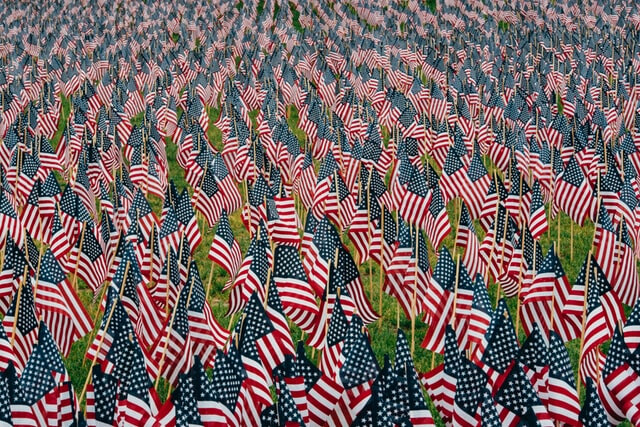 The Importance & History Of Military Patches
Military patches are an essential part of the uniform, both for troops in the United States and worldwide. But what makes them necessary? Why are they standard for every soldier...
Military patches are an essential part of the uniform, both for troops in the United States and worldwide. But what makes them necessary? Why are they standard for every soldier, and when did they come into use? Today we examine military patches and their significance.
For many of us, patches are used to decorate our favorite garments. However, they are also used by businesses, companies, and organizations for various reasons. Custom patches are familiar to us thanks to their use on employee uniforms, military uniforms, and sports jerseys. They are used for identification purposes, but they can also be used to commemorate special events and accomplishments and even for marketing and promotion. Let's take a deeper dive into military patches and their importance.
The history of the military patch in the United States is quite brief. Soldiers in the Civil War used them for identification. Typically, these early patches were made by the troops' mothers, wives, and girlfriends. At that time, the embroidery was done by hand, as it had for thousands of years previously. Each patch was a big difference, and it would have been nearly impossible to standardize them. However, not long after the end of the Civil War, the Industrial Revolution offered significant changes to the industry.
The invention of the sewing machine changed everything, and not long after, the first powered embroidery machines were invented. These two advances drastically decreased the cost of embroidery and increased the speed of the work. That made it feasible for custom embroidered patches to be produced quickly and with consistency. By World War I, machine embroidery was the norm.
The first shoulder sleeve patch, or tactical patch, is credited to the Army's 81st Infantry Division. In 1917, after troops joined World War I, the unit created what is known as the first tactical patch. After training at Fort Jackson in South Carolina, the infantry division decided to pay homage to their training grounds. Located near a body of water dubbed Wildcat Creek, the troops that trained at Fort Jackson designed a patch that represented their achievements. The design included the silhouette of a wildcat on an olive drab background, paying respect to their humble beginnings.
Every Army group, squad, and battalion within two decades had their own unique custom patches. The 82nd Airborne had its mirror-image pair of "A"s for All-American, the 1st Infantry Division had a "Big Red One '' patch, and so on for all the others. Before long, unit patches and U.S. flags became an integral part of the military uniform for all troops. Placed on the uniform's right sleeve and below the American flag, patches show service in the United States military and are a source of pride and camaraderie. Patches are typically presented to soldiers after 30 days of service and for other experiences and journeys that have been completed in a soldier's career. Military patches show what branch troops serve in and specific deployments and other specialized activities. Military patches also denote rank, presented for specialization and understanding. These patches are an honor worn with pride.
Flag patches are also an essential part of the military uniform. Flag patches are typically turned the opposite way, representing heading forward into battle while showing what soldiers are fighting for. Military patches generally are attached with Velcro, which makes for quick removal and addition to the uniform.
Did you know that patches are not just used for rank? They are also presented as an acknowledgment of experience. This allows other soldiers and people unfamiliar with their service to know what that troop has accomplished. Patches also help recognize those who have an acknowledgment of experience. They are used to identify soldiers to their branch and let others know they have trusted knowledge of specific duties. Military patches can even identify division, rank, and skill set.
Patches are also made for veterans and worn to honor their service. Whether it's for their assistance in a particular branch or during a specific war, these patches keep a connection for active members and veterans alike. They are also presented for special missions or for holding a special rank. This type of patch for former military members gives them something they can use to represent their acts and remember their service and experiences. When patches were introduced to the U.S. military, they were used for combat purposes. They were used for fallen soldiers, ranks to show established positions, and specific branches. However, patches have expanded since those early days.
Patches do not have to be worn only when serving in the military. They are a source of honor and respect to the men and women who volunteer to serve our country. Military patches can be worn on shirts, jackets, hats, and more to show your respect for the troops. These small pieces of cloth are valued highly both by active service members and veterans, serving as a great way to show your appreciation for the United States military.
To find out more about military patches and custom embroidered patches, call us toll-free at 866-847-2824 or email us. We'd be happy to help you create something memorable.
---
Jesse Daugherty
Blogger
Hello, I'm Jesse Daugherty, a music enthusiast, sports aficionado, and an avid supporter of the arts. I'm a writer and content creator. For the past 5 years, I've shared my knowledge of custom patches and other promotional products, exploring their designs, meaning, and purpose.