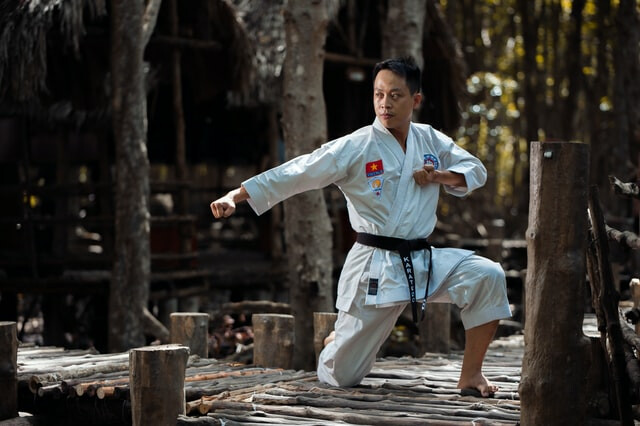 The Meaning of Martial Arts Patches
Patches are a part of the uniform for every sport. They are an integral part of the game from football to baseball, basketball, and soccer. Custom patches are also essential...
Patches are a part of the uniform for every sport. They are an integral part of the game from football to baseball, basketball, and soccer. Custom patches are also essential for martial arts uniforms, known traditionally as a gi. Whether you practice Brazilian Jiu-Jitsu, Karate, Taekwondo, or Mixed Martial Arts, embroidered patches are a big part of the process.
Custom patches have special meanings in martial arts. They signify your rank, tournaments you've participated in, the style of martial arts you practice, or the school in which you train. Patches are a great way to welcome new members and improve participation. A custom patch will boost morale among students. They serve as great rewards and can assist in team building too. Patches highlight your accomplishments and let you show them with pride.
Patches With Purpose
Patches have a specific purpose in martial arts. Patches are more than just a decorative addition to the uniform. These include rank patches for senseis, instructors, leaders, grandmasters, and others. They also denote certain skill levels and teams. Particular patches are presented for special achievements, including receiving one's black belt.
Besides having specific meanings, the location of the patch is crucial too. The gi typically features a particular patch on the left chest of the jacket, the back, and the sleeves. The chest and back patch feature the school name and logo. The sleeves of the gi include a student's extraordinary achievements. The left shoulder includes special groups and teams, while the right signifies ranks and other notable accomplishments. Every martial arts patch has significance. Consider these details when designing patches of your own.
Stand Out
A well-designed patch attracts attention and sends a message. Martial arts patches are no different. These patches are bold, colorful, intricate, and distinctive. Many martial art patches include traditional elements such as tigers, dragons, yin and yang symbols, flags, and more. Other shapes like stars, stripes, and chevrons are also popular additions.
The patch is generally the focal point of any martial arts gi. Each patch should be perfect and represent the style of martial arts being studied. Embroidered patches are vibrant and durable, making them ideal for martial arts patches. They allow details to come to life, and they look great on a clean white gi. Get creative and make something that stands out.
The Options
When designing a martial arts patch, you have plenty of options, as with any custom patch. Consider the purpose of the patch and create something that has meaning to your students and your school. You have creative control over the entire design, from the artwork and text to your patch's thread color and shape.
For martial arts patches, it's best to stick to traditional shapes such as circles, squares, and rectangles. These simple shapes work best with gis, perfectly fitting the chest, sleeves, and back of the uniform. Think about the elements you want to include and the color scheme. These details are essential and can be the difference between an ordinary patch and an outstanding one.
Adding a border is another way to make your patch stand out. A Merrowed border adds a classic touch that will complement your design flawlessly.
Patches are a unique symbol for martial arts students. Regardless of the style, patches showcase dedication, determination, and loyalty. They are a source of pride for students and are an important part of every martial arts style. Find out more about our martial arts and sports patches.
---
Jesse Daugherty
Blogger
Hello, I'm Jesse Daugherty, a music enthusiast, sports aficionado, and an avid supporter of the arts. I'm a writer and content creator. For the past 5 years, I've shared my knowledge of custom patches and other promotional products, exploring their designs, meaning, and purpose.