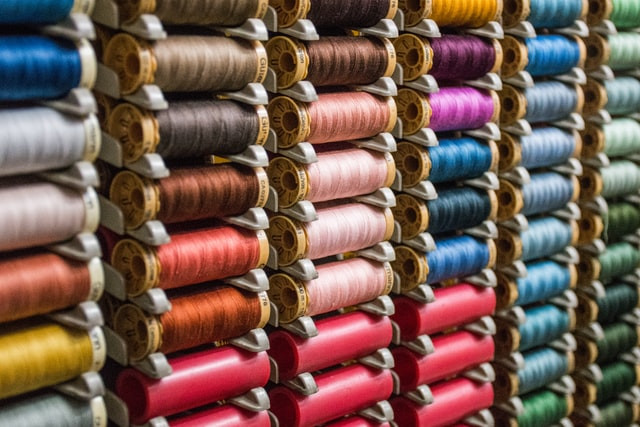 Sep 18, 2020
The Options of Embroidery Thread Colors on Custom Patches
When creating custom patches, it's important to remember that you have plenty of options to make yours stand out. There is a whole world of color that you can add...
Author: Jesse Daugherty
When creating custom patches, remember that you have plenty of options to make yours stand out. There is a whole world of color that you can add to your custom embroidered patch, adding unique detail, bold accents, and more.
At Patches4Less.com, we offer a selection of embroidery thread colors that are sure to add a nice touch to your design. While we have a selection of colors to choose from, if you want an exact color match consult a Pantone color chart at your local print shop or library. Then notify us of the number of your desired Pantone color. Because computer monitors vary in their color accuracy, this is the only way to ensure a 100% color match. We also offer a range of mesh colors that serve as a base for your design, but we will touch base on that in a minute.
Through the years, we have created patches with all sorts of color combinations and schemes. We have created colorful, custom patches of all sorts from camouflage patterns for military patches, sports team patches with neon colors, and others. There is no limit on the vibrant artwork that you can embroider on your patch. Before you know it, you will have a great patch that is functional and eye-catching.
At Patches4Less.com, every custom patch we design comes with up to seven free thread colors and one free mesh color. The thread colors you select will then be embroidered into a twill base, forming your design. If the embroidery doesn't cover all of the twill, it's crucial to have a twill color that compliments the artwork. A complimentary twill color for patches with less than 100% thread coverage offers a seamless look and feel. For patches with 100% thread coverage, none of the twill will be visible, which means there is no need to choose a twill color.
If you want to include more than the seven free thread colors on your embroidered patch, we can do that too. We can add up to fourteen different colors to a design. However, there will be a slight additional charge for each color beyond the first seven. The size of your patch will play a role in how many colors can fit into the design. A small patch only has so much room to work with, and adding too many colors will distort the image and text.
We are confident that we have the colors you need to bring your design to life. However, if you are looking to add a flashy touch, we also offer metallic and neon threads. Neon thread is perfect for anyone that is looking to make their patch shine a bit brighter.
The pink and yellow neon thread colors are bold and bright, adding a nice pop to any design. The metallic gold and silver threads add a vibrant effect similar to neon colors. The gold and silver metallic will shimmer under the light, adding a unique look to any patch.
For corporations and organizations, we can use the Pantone colors you need for your patches. With certain brand guidelines in place, we can use a specific set of Pantone colors for any custom patch.
Even if we don't have the specific thread colors, you still have options. The first is to match the color as closely as possible using the standard thread colors we offer. The second option is to dye the thread with a specific Pantone color before embroidering the design. We do recommend using the standard colors we offer for our embroidered patches. This ensures that your order is processed without delay.
At Patches4Less.com, we have created patches of all sorts. From large colorful, detailed custom patches to smaller, simple designs with just a few colors. We know what it takes to create stunning custom patches, and our team of graphic artists and designers are the best in the business.
We are dedicated to providing quality products. Combine that with rigorous quality control, and you get perfect patches, from thread colors to backing options and more.
We strive to provide the best customer service on the market, and we offer free shipping anywhere in the continental United States. At Patches4Less.com, we make designing and ordering custom patches easy and effortless. If you are looking to design a creative, colorful, and eye-catching custom embroidered patch, we've got you covered.
Get a free quote on your design now or give us an email with any questions you have. We're happy to help with all your custom patch needs!