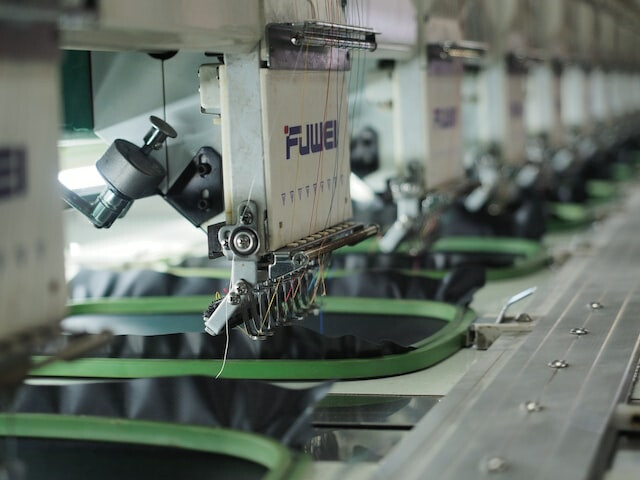 Jan 4, 2023
5 Ways To Make Custom Embroidered Patches Stand Out
To make custom patches personal and unique, consider a few key aspects of their design.
Author: Jesse Daugherty
Custom embroidered patches can add a unique and personal touch to clothing and accessories. To make a great patch, you must consider a few key aspects. From choosing the right artwork and color scheme to selecting the best placement and border, there are many ways to ensure that your custom patches stand out and make a statement.
One way to make great custom patches is to choose memorable artwork. This could be a clever logo, symbol, or even a bold pattern or graphic. Your patch's design should reflect your style or the message you want to convey. Today we will explore some ways you can make your custom embroidered patches pop.
Designing Custom Patches
Whether you are an individual looking to add flair to your wardrobe, or a business owner who wants to promote your brand, there are numerous benefits to creating custom patches.
One benefit of embroidered patches is that they are highly customizable. You can choose the art, text, colors, size, and shape of your patch to match your style or brand. This allows you to develop a patch that genuinely reflects your personality or message.
Custom embroidered patches are durable and long-lasting. Embroidered patches are made by sewing thread onto a fabric backing, which adds to their durability. This means that your custom patches will continue to look great for a long time, even with frequent use.
Custom embroidered patches can also be a cost-effective way to promote your business or cause. They are inexpensive to produce in large quantities, making them an affordable marketing tool. Additionally, patches can be easily applied to various items, such as hats, t-shirts, and bags, allowing you to reach a broad audience without breaking the bank. Custom embroidered patches are a fun and inventive way to express yourself.
Imagery and Text
When designing custom patches, one of the most significant considerations is the choice of images and text to feature on the patch. The right combination can make your patch stand out, while the wrong combination can leave your patch looking cluttered and confusing. Here are a few tips for choosing the best images and text for your custom patches.
First, consider the purpose of your patch. This will help determine the most appropriate images and text type. For example, a patch for a business might incorporate the company logo and name, while a patch for personal use may include a favorite quote or symbol. It's also vital to consider the placement of your patch. Will it be worn on the front of a shirt or the back? Or will it be placed on a bag or accessory? This will help determine the best orientation for your design. In terms of the actual images and text, choose elements that are clear and easy to understand.
Also consider the overall aesthetic of your patch. You want your patch to look sharp and well-designed, so choose elements that work well together and complement each other. By evaluating your patch's purpose, placement, and overall aesthetic, you can create a patch that stands out.
Selecting Color
Another important factor is the color scheme of your patch. Using bright and bold colors can add vibrancy to your patch. The right color scheme can make your patch distinctive and effectively communicate your message. But the wrong colors can leave your patch looking dull and uninspiring.
Again, think about the purpose of the patch. This will help determine the type of colors that will work the best. For instance, a patch for a business should consist of the company's official colors. In contrast, a patch for personal use may feature your favorite colors or a color scheme to reflect your personality.
It's important that your patch has a cohesive look. Choose colors that complement each other. Avoid mixing too many colors, as this will result in a busy, unorganized look. Instead, choose a color scheme that is pleasing to the eye and related to the overall composition. Opt for shades that are easy to see, and avoid pale or pastel colors. Bright, bold colors are a perfect way to draw attention to your patch.
Choosing the right colors for your custom embroidered patches is an essential step. Color is a fun and unique way to make your custom patches pop.
Patch Borders
Another way to make your patches stand out is with an attractive border. The right border will add a professional look to your patch.
There are two types of border options, merrowed and hot cut. A merrowed border is a type of border formed using a special machine that produces a classic and timeless finish. One advantage of merrowed borders is that they are highly durable. In terms of appearance, merrowed borders have a professional and polished look. The clean finish of the border forms a cohesive look. Merrowed borders are versatile and perfect for a wide range of patches.
The other border option is a hot-cut edge. Hot-cut edges are created with a machine that precisely cuts the patch's edges. The patch is first embroidered onto a fabric backing using an embroidery machine. Once the embroidery is complete, the patch is trimmed to its final shape using a hot-cut machine. The hot cut machine uses heat and pressure to cut through the fabric backing cleanly. Hot-cut borders are popular for patches with custom shapes.

Merrowed borders are created using an overlock machine, which stitches the edges of the fabric together to create a finished edge. This option has a more professional and finished appearance, boasting a 3D-esque look that gives visual separation from the garment it's attached to. Hot-cut borders are flat and blend better with the garment. Merrowed borders are limited to standard geometric shapes, while hot cut allows you to create custom-shaped patches.
Patch Size
The size of your patch is an important detail. There are a few things to consider when choosing the size of your patch. First is the purpose and placement of your patch. Patches for businesses should be large enough to make a statement.

The placement of your patch will determine the best size for your patch. A patch on the front of a shirt might work best with a smaller size, while larger patches fit nicely on the back of shirts, uniforms, and other garments. Choose a size that is proportionate to the garment. Avoid using patches that are too small or too large, as this can make your patch look out of balance.
Be sure to consider the embroidery details and borders too. If your patch has intricate details, you may need a larger size to accommodate these elements. A patch with simple art can be smaller without sacrificing legibility. Choosing the right size patch can make a huge difference in the look of your design.
Bold Is Better
To create bold custom embroidered patches, start by choosing strong and eye-catching imagery. This could be a bold graphic, logo, bright, colorful pattern, or striking symbol or shape. You'll also want to consider the size of your patch – larger patches tend to be bolder and more noticeable, so you may want to choose a larger size.
There are many ways to make custom embroidered patches pop. From choosing the right design and size to selecting the perfect colors and border, the key is to consider the purpose and placement of your patch and to think about the overall aesthetic and impact you want to achieve.
Whether you are developing a patch for a business or organization or personal use, by following these tips, you can create a patch that effectively conveys your message and stands out. Let's get started creating yours today.