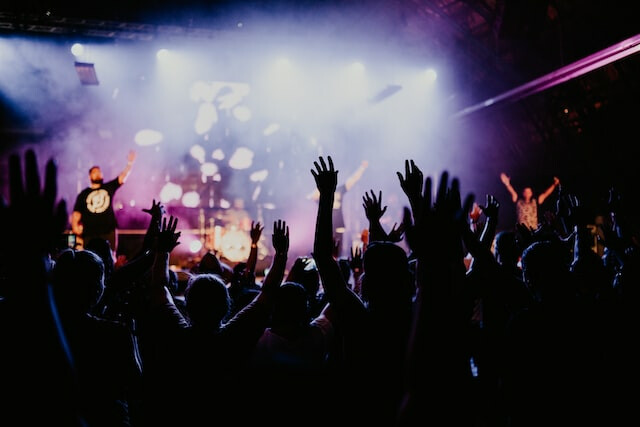 Aug 15, 2022
Celebrate Sound With Music Festival Patches
Music festivals are a special experience for attendees and bands alike. Music festivals are popular, and fans will travel across the country for a memorable in-person experience. From Bonnaroo to...
Author: Jesse Daugherty
Music festivals are a special experience for attendees and bands alike. Music festivals are popular, and fans will travel across the country for a memorable in-person experience. From Bonnaroo to Coachella, Burning Man, the Electric Daisy Carnival, and more, festivals and the acts involved are always looking for new ways to market and promote.
Custom patches are the perfect tool for marketing and promotion. They celebrate the moment and provide guests with a tangible reminder of the event. These small, vibrant items are mementos that attendees and fans can wear and display.

Whether you want to design custom merch for your band, show your passion for music, or design a memorable patch marking an upcoming music festival, a custom patch is an ideal way to do it.
Patches of the Past
Embroidered patches have a long history that dates back to the ancient cultures in China, India, the Mediterranean, and South America. They were typically used to repair and tailor fabrics, evolving into stylish additions to garments and tapestries. Only the wealthy could afford embroidered items. Emblems and symbols embroidered on the robes of royalty served as a sign of wealth and power. Things changed during the Industrial Revolution, when embroidery machines made embroidered patches more accessible.
Over the past century, patches symbolized many different things to different people. In the 1960s, patches became widespread among the counterculture, becoming an icon of the hippie movement. These small patches were used to spread messages of love, peace, and rebellion. With protests against the Vietnam War taking place across the country, patches helped raise awareness for the cause. These small items adorned dresses, vests, shirts, hats, and more, spreading the message of the counterculture.
The movement affected trends worldwide, especially in fashion. People started embellishing their favorite clothing with custom patches, creating satirical designs that spread a message and included icons of the era. Peace signs, smiley faces, flowers, and hearts were all popular emblems of the time.
The era was famous for music and music festivals. People traveled across the country to take part in these incredible experiences. From the Monterey Pop Festival in California to the Newport Folk Festival and Woodstock, peace and joy were spread through sound. The festivals brought people together who shared their affection for music, style, and revolution, expanding the counterculture from coast to coast. Patches became a way for people to stand out and wear their passions for the world to see.
Woodstock
The Woodstock Music and Art Fair, better known as Woodstock, took place on August 15–18, 1969. The event occurred on a dairy farm in upstate New York, where thirty-two acts performed for throngs of fans. The festival is regarded as the most famous music festival in music history, attracting an audience of more than 400,000 to Bethel, New York.
The music festival included a Who's Who of performers. Santana, Grateful Dead, Janis Joplin, The Who, Joe Cocker, and Jimi Hendrix were just a few who took the stage over the three-day festival. Hendrix was the last to perform at the festival, performing a psychedelic rendition of the national anthem for the fans.
Woodstock was more than a music festival. It was a counterculture gathering where people joined other like-minded people to embrace love, peace, and happiness. It was also a showcase of style from the era and further propelled custom patches into the mainstream. These days custom patches adorn fashion items, including dresses, coats, shoes, and accessories such as bags and backpacks. Patches are a way to show your hobbies and interests while elevating your style.
The popularity of custom patches throughout the counterculture continued to grow. The punk and new wave scenes in the 1970s and '80s picked up on patches and began adding their own style. Instead of flowers, peace signs, and love images, the punk scene wore patches of their favorite bands and slogans representing a rebellious spirit. The patches adorned leather jackets and tattered vests, roughly stitched or safety pinned into place. Though they spread a much different message than patches of the 60s, these custom patches promoted a sense of identity and personality.
Patches for Merch
Like any business or brand, music festivals, musicians, and bands are always looking for new ways to promote themselves. A custom patch is a great way to stand out. Designing a patch for your group provides a unique souvenir for fans, raising brand awareness and spreading the word to other festival goers. Use patches to create branded merchandise or limited edition patches representing the festival. Sell patches at merch or add them to garments such as hats, t-shirts, hoodies, and more.
When designing a custom patch, include details and elements representing your band and the festival. Use custom fonts to stand out and add contrasting colors for a stunning visual effect. Logos, emblems, and other insignia are also exceptional details to include. Consider the role of the patches and your fans. Get creative and design an embroidered patch that will provide memories of an incredible experience.
Custom patches are a distinctive and stylish way to promote any business or brand, and musicians, festivals, and bands are no different. Once the festival is over and fans return to reality, custom patches will be memorable keepsakes of the event. These unique patches are conversation starters and a tangible reminder of seeing your favorite bands at your favorite festival. Let's work together to create stunning patches you can wear with pride. Find out more about designing custom embroidered patches.