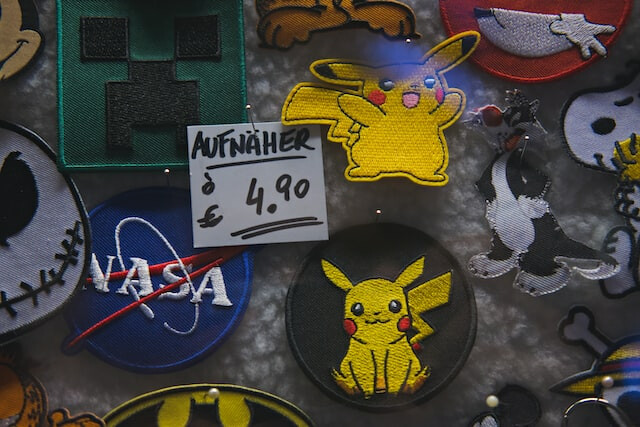 Feb 13, 2023
Common Mistakes To Avoid When Designing Custom Embroidered Patches
With proper attention to detail, it's easy to create great-looking patches for your organization, brand or an individual.
Author: Jesse Daugherty
Custom embroidered patches have become an increasingly popular way to represent a brand, organization, or even an individual. One can use them for an array of purposes, such as uniform patches, promotional items, or even as collectibles. They are versatile and can be a fun, creative way to showcase your message or brand.
Designing custom patches is an exciting process, but it can also be challenging. It's essential to be aware of potential mistakes and to consider several important factors. By knowing how to prevent the most common errors you can create a visually appealing, functional, and long-lasting patch. Below, we will discuss these common mistakes and provide tips on how to create a patch that not only meets your expectations but exceeds them. By following this advice, you can ensure that your custom patch is a work of art you can be proud to display for years to come.
Size and Shape
One of the most common mistakes made when designing custom embroidered patches is not considering the size and shape of the patch. Choosing the wrong size or shape can make a patch look disproportionate or cluttered. When designing a patch, it's important to consider the space available and how it will look when scaled to the chosen size and shape.
Tips for Choosing the Right Size and Shape for Your Patch:
Consider the intended use of the patch.
Think about the design and how it will look when scaled to different sizes.
Make sure the size and shape of the patch are in proportion to the design.
Consider the budget and how the patch's size and shape will affect the production cost.
By considering these factors, you can ensure that your patch will be the right size and shape for your design. A well-designed patch will look visually appealing and will convey its message clearly.
Attention to Detail
Another common mistake when designing embroidered patches is not paying attention to the details. Small details can make a big difference in the final product. Overlooking them can result in a patch that looks unfinished or unprofessional. Pay attention to every aspect of the design, from the placement of elements to the choice of colors and fonts.

Double-check the spelling and grammar of any text included in the design. Additionally, make sure the placement of design elements are visually pleasing and balanced. Consider the use of negative space and pay attention to the choice of colors and how they interact with each other. Review your design from different angles and try various color schemes and fonts. Examining these details will help ensure that your patch looks precisely how you intend. By focusing on the details, you can create a patch that effectively conveys the message you want and is well-received.
The Purpose of the Patch
Another mistake that people often make when designing custom patches is not taking into consideration the function of the patch. The intended use of the patch should influence the design and the materials used to create it. For example, a patch for a camping club would have graphics that are inspired by nature. In contrast, a patch for a sports team would feature the team's logo or mascot. This is especially important if the patch is meant to be used for a specific function or worn in a certain way.
A Second Look
Neglecting to review the design of a custom embroidered patch before production is a common and costly mistake. Taking the time to carefully review the design before it goes into production can save you the frustration and expense of correcting mistakes in the final product.
It is important to double check the design for any spelling errors, grammatical mistakes, and other inaccuracies that may have been overlooked during the design process. Taking the time to review the design also provides an opportunity to make any necessary adjustments to the design to ensure it fully represents your message or brand.
Tips for Reviewing Your Patch Design:
Have someone else review the design for mistakes.
Check the design for consistency in font, spacing, and alignment.
Make sure the design is legible and easy to read.
Check the design for accuracy, especially if it contains text or numbers.
Review the design multiple times for any mistakes

you might have missed

.
By carefully reviewing the patch design before finalizing production, you will save time and money by avoiding errors that could require re-embroidering the patches. When you take the time to review the design, you will be able to ensure that the final product accurately reflects your intended message.

Designing a custom embroidered patch can be a fun and creative experience. Whether for personal use or for your business or organization, having a custom patch made allows you to showcase your unique message or brand in a visually striking way.
The process of designing a patch involves blending colors, images, and text to create a cohesive and eye-catching design. The end result is a one-of-a-kind patch that truly represents you and stands out.

Creating an excellent custom patch requires attention to detail and a good understanding of the process. By avoiding the common mistakes mentioned above, you can be sure that your patches are visually appealing.
With the right approach and attention to detail, you can create custom patches that are sure to impress. Whether you want to promote your brand, organization, or event, custom embroidered patches are a great way to do it. Let's work together to design something memorable and meaningful. Whether you're an experienced designer or new to the process, we're here to help you create a patch that will turn heads and make a lasting impression.