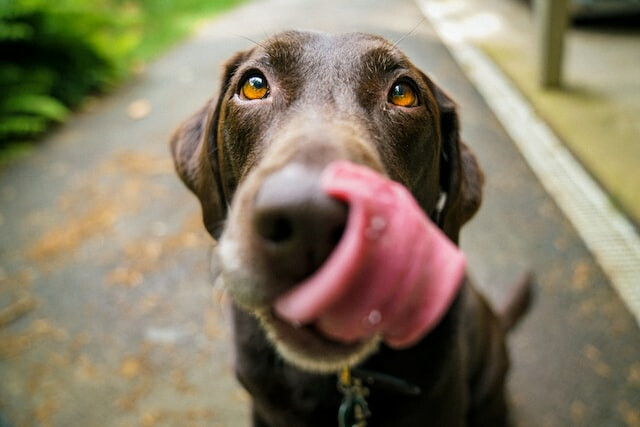 Sep 20, 2022
Custom Patches For National Dog Week
Who doesn't love dogs? They are "man's best friend" for a reason. We have a soft spot for our favorite lovable canine companions, from puppies to adult dogs. From...
Author: Jesse Daugherty
Who doesn't love dogs? They are "man's best friend" for a reason. We have a soft spot for our favorite lovable canine companions, from puppies to adult dogs. From September 20 to 27 each year, the country honors our favorite friendly furballs with National Dog Week. The goal is to show appreciation to our canine companions, who have been by our side for centuries.
National Dog Week is a celebration of dogs, what they mean to people, and about improving the lives of all dogs. The week focuses on the education of dog owners and the general public and the interaction of dog owners and dog care professionals. It also sheds light on helping lost, abused, and unwanted dogs across the country.
National Dog Week is a chance to celebrate dog owners, lovers, and the community while recognizing and praising local organizations, shelters, and dogs in need. The celebration is an opportunity to organize fun events for dogs and dog people. Why not wear your heart on your sleeve and celebrate National Dog Week in style?
All About Dogs
Dogs hold a special place in human history. They were the first species to be domesticated, used by hunter-gatherers for thousands of years. Dogs are selectively bred and vary in shape, size, color, and character. They perform many roles for humans, including hunting, herding, protection, aiding disabled people, and assisting police and the military. Dogs have adapted to human behavior.
Certain breeds, such as collies and sheepdogs, are bred for herding livestock, while hounds and pointers assist in hunting. Working dogs, such as detection dogs, search for illicit drugs, weapons, and more. In 1957, the dog Laika became the first animal to be launched into Earth orbit aboard the Soviets' Sputnik 2 spacecraft. Dogs are important to humans, providing loyalty, protection, and love.
To many, dogs are a part of the family. According to the American Pet Products Manufacturers Association, an estimated 77.5 million people in the United States have pet dogs. The same statistics show that almost 40% of American households own at least one dog. Let's celebrate dogs and their unique role in our lives and family.
National Dog Week History
The history of National Dog Week dates back to 1928. World War I veteran and canine advocate Captain William Judy decided a week-long celebration was a great way to recognize the loyalty and service of dogs. Captain Judy established a publishing company dedicated to dogs, acquiring and publishing Dog World Magazine after returning home from the war. He was also a founder of the Dog Writers Association of America. The group encouraged the publication of more dog-related material, rewarding those who produced quality works.
Judy wrote stories about his experiences and books about dogs, including "The Dog Encyclopedia." Judy aimed to improve the lives of dogs, educating people on various breeds and successful training methods. He continued to write and edit essays until his death in 1973. The magazine continued after his passing and the final issue was published in September 2012.
National Dog Week started as a way to show appreciation for dogs and their important place in our lives. The week also aims to educate people about the ethical responsibilities of owning a dog. Why not celebrate National Dog Week with custom patches of your favorite pooch? We can help you design something memorable and meaningful that you can wear with pride.
Observing National Dog Week
There are many different ways to observe National Dog Week. The celebration takes place over the fourth week of September with a range of activities, fundraising events, and volunteer programs throughout the community.
National Dog Week is an excellent opportunity to make a difference in the lives of dogs in the community while celebrating your favorite furry companion. Dog lovers and dog owners are encouraged to get involved with local events or organize something of their own. Events, including donation and adoption drives, are great fundraisers and a fun way to bring awareness to the cause. Organize a gathering at your local dog park, meet other dog owners, and learn more about how to give dogs a more fulfilling life.
If you have a dog, play with them for a few extra minutes. Snap some pictures and share them on social media, or consider adding a new member to the family. You can still show your support if you don't have a dog. Volunteer at a local shelter or rescue organization, donate items or bring a treat to a friend's dog. You can also show your passion for pooches in style with a custom dog patch, and we can help.
Pups and Patches
There are many ways to show off your love of dogs, but nothing quite like a custom patch. We can create custom patches in virtually any shape or size you can imagine. Get creative, design a custom patch with your pup's likeness or design a patch that brings awareness to dog adoption and local shelters. Patches are perfect for police K9 units, service and therapy dogs, dogs in training, or simply for your pet's favorite apparel. Patches are great fundraiser items too. Add them to clothing for humans, including hats, shirts, jackets, and more. These items can be used to raise funds for shelters and organizations that help dogs in need of homes around the country. National Dog Week is a time to raise awareness of these incredible animals, and a creative custom patch is an exceptional way to do just that.
For dog owners, these canine companions are more than pets. Let's celebrate that special bond and dog's role throughout history. Take the time to find out how to be a responsible dog owner and do your part to help lost and unwanted dogs across the country. Let's work together to create a unique way to celebrate National Dog Week. Find out more about designing custom patches, and take a look through our gallery for inspiration.