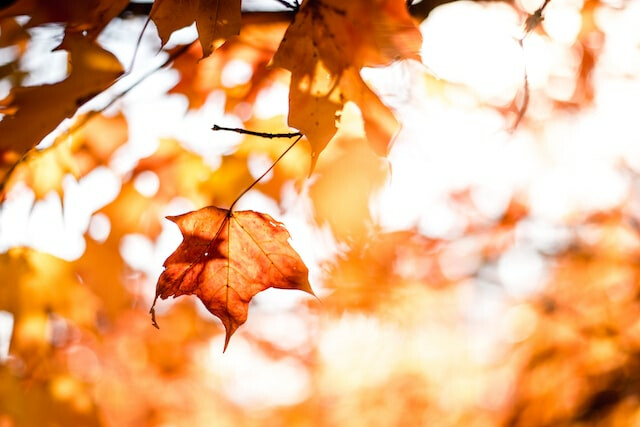 Custom Patches in Honor of Fall 
Fall is officially upon us. The weather is cooling off, and summer has come to an end. It's a time of change, both in temperature and in style. Fall is...
Fall is officially upon us. The weather is cooling off, and summer has come to an end. It's a time of change, both in temperature and in style.
Autumn is also a time for celebration and fun. The season includes Halloween, Thanksgiving, and the beginning of the December holidays. It's a busy time of year, and what better way to kick off fall than with custom patches? Let's talk more about fall, fashion, and custom patches.
Welcome to Fall
Autumn, also known as fall, is the beginning of the cooler months of the year. Daylight becomes shorter, and the temperature cools considerably. The colors are changing, the places we visit are different, and even what we eat changes with the season.
Gone are the light, colorful clothes of summer, replaced with cool-weather-ready wares. Fall is a season of change for all of us, and custom patches are an excellent way to elevate your favorite apparel and accessories.
Custom Patches for Fall Style
Fall fashion is all about staying warm and looking exceptional. The shorter days and cooler temps mean it's time to break out the jackets, sweaters, coats, and hats. Fall fashion is functional and stylish.
Custom patches are a great way to add a personal touch of style to any garment. You can customize nearly any apparel with fall-themed patches. Whether it's cotton, denim, leather, or any other material, there is a way to attach a custom patch. Take your fall fashion to a new level with images that celebrate fall.
Custom patches are a perfect way for sports fans to show team loyalty or to display their passion for Halloween, Thanksgiving, and the holiday season. Use patches to add character to old jeans, attach one to your favorite denim jacket, or add one to your backpack. Custom fall patches are a fun way to embrace the season while elevating your favorite articles of clothing.
Halloween Patches
Custom patches are perfect for Halloween. Costumes make Halloween special, but finding the right one can be challenging. A good outfit is essential, but the accessories make it stand out. You want a realistic costume, and custom patches can add a perfect touch.
Whether you want to dress up as a firefighter, a police officer, or your favorite athlete, a custom patch can add a fun element to any costume. Patches are also great for pirate costumes, biker outfits, and many more.
Custom patches can also be used to show your love for the holiday. Create patches in the shape of pumpkins, black cats, ghosts, and other spooky characters to embrace the day. Custom Halloween patches work well with nearly any costume. Get creative, be scary and stand out.
Fall Hat Patches
With the weather changing this season, it's time to don some new headwear. Hats are a popular accessory for the season, and custom patches are the perfect way to make a good hat better. Fedoras, wide-brim hats, beanies, and bucket hats are popular fall headwear options, and patches are the perfect way to accent any design.
Hats are a unique way to spread a message, show your interests, or simply elevate your style. Patches can be applied to nearly any hat, including ball caps. Custom patches are often used as a team or brand promotional item.
Hat patches are novel marketing tools featuring personal details and design elements that demand attention. Design a custom hat patch of your own and step your style up this season.
Fall is here. Why not start it in style? Custom patches are a great way to elevate your looks for the season, bringing new life to old clothes and new garments. Add custom patches to seasonal staples and show your passion for the year's cooler months.
Let's work together to create custom fall patches that will be worn with pride. Find out more about designing custom patches, and take a look through our patch gallery for inspiration.
---
Jesse Daugherty
Blogger
Hello, I'm Jesse Daugherty, a music enthusiast, sports aficionado, and an avid supporter of the arts. I'm a writer and content creator. For the past 5 years, I've shared my knowledge of custom patches and other promotional products, exploring their designs, meaning, and purpose.