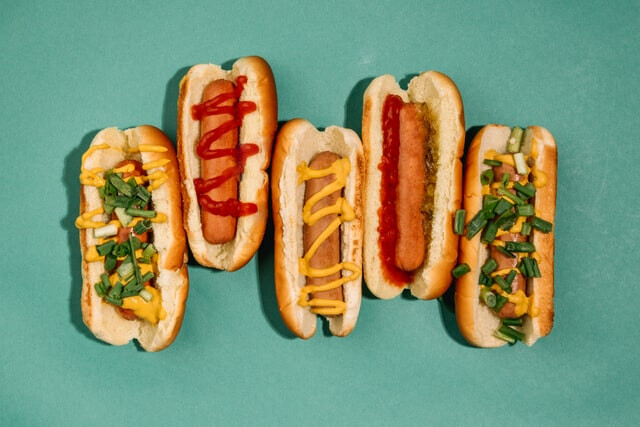 Savor The Flavor Of National Hot Dog Month
Hot dogs are a national staple and a summertime essential. We all love a good hot dog, and July is the perfect time to celebrate the American classic. July is...
We all love a good hot dog, and July is the perfect time to celebrate the American classic. July is National Hot Dog Month. Why not celebrate the festivities with a custom patch to show your passion? Get your grill ready, grab a dog and your favorite toppings, and let's discuss how to observe the month in style.
National Hot Dog Month started in 1956. The U.S. Chamber of Commerce first named the month. Since then, the National Hot Dog and Sausage Council has promoted the summer celebration all month. July also includes National Hot Dog Day on the 20th and National Chili Dog Day on the 28th. No matter what kind of dog you like, there is a day just for you. I guess you could call it the dog days of summer.
National Hot Dog Day
National Hot Dog Day was established in 1991, occurring every year on a Wednesday in July. It initially coincided with a hot dog lunch on Capitol Hill. National Chili Dog Day takes place on the last Thursday in July, where hot dog fans across the country top their dogs with their favorite chili. And, we can't forget about the annual hot dog eating competition that takes place on July 4th in Coney Island, New York. Each year competitors from across the globe battle to see who can scarf down the most hot dogs in ten minutes. The world record is held by Joey "Jaws" Chestnut, who ate 76 hot dogs during the 2021 contest.
Celebrate. Eat. Repeat.
There are many ways to celebrate National Hot Dog Month. Have friends over, throw some dogs on the grill, and enjoy a great afternoon outdoors. Throw a hot dog buffet and have your guests bring a different topping. Host a hot dog roast, enjoy your favorite local hot dog or maybe design a custom patch that shows your love for your favorite culinary creation. Pass them along to friends and fellow hot dog lovers. Give them to your favorite local hot dog supplier or add them to your merchandise collection. Custom patches are a vibrant, unique way to show your fondness for National Hot Dog Month.
You have creative control, so design something that represents your love for hot dogs. Design a colorful character or a hot dog with fun attributes. Add color to your design and text, including the year, your name, or a memorable slogan. Custom patches can be created in virtually any shape or size. Determine the purpose of your patch and design accordingly. These patches can be added to apparel and accessories, expanding merchandise collections, or used as fundraisers.
National Hot Dog Month is right around the corner, and we are ready to celebrate. There is nothing like a summer barbeque, and hot dogs are a staple of any good gathering. Observe the day and pass along your love for hot dogs with an exceptional custom patch. Find out more information about designing the perfect custom patch here.
---
Jesse Daugherty
Blogger
Hello, I'm Jesse Daugherty, a music enthusiast, sports aficionado, and an avid supporter of the arts. I'm a writer and content creator. For the past 5 years, I've shared my knowledge of custom patches and other promotional products, exploring their designs, meaning, and purpose.