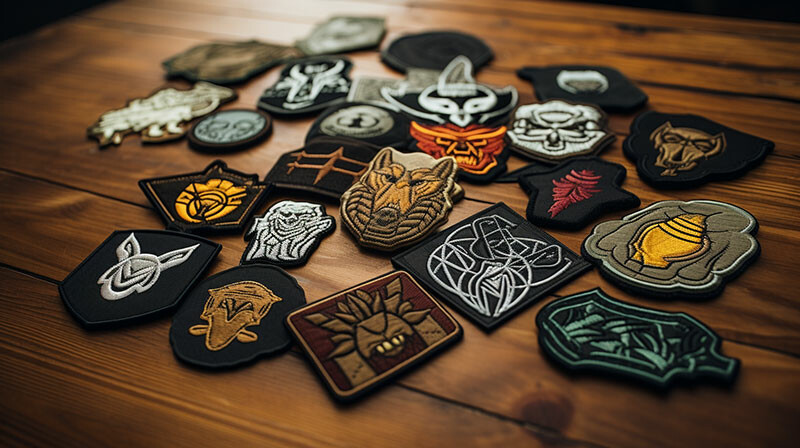 Cheap Custom Patches: Low Cost, High Performance
Top quality custom patches don't have to break the bank.
If you're in a band, support a cause or want to promote a business, custom patches are among the most popular ways of doing so. Patches go everywhere the wearer does, bringing awareness to their message in every arena. But if you're trying to make every marketing penny count, you might be worried about how much custom patches cost.
No problem. Cheap custom patches, if designed and made well, can be equally effective as more expensive ones. The trick is in knowing what features you need, and how to maximize the value of your patches.
When you know the factors that go into the price of patches, and the options available, you can choose the right patches for your needs without breaking the bank. Let's look at a few ways to create affordable custom patches.
Let's make one thing clear up front: there's a difference between "cheap" and "poor quality." It's entirely possible to have cheap custom patches that are equal in quality to more expensive versions. It's really all in your design and style choices.
Patches have long been a way of making a fashion statement, or promoting a business or cause. They even make fun collectibles. They truly have a style all their own.
Patch Pricing Factors
Let's consider some of the things that affect the price of patches. Those include the complexity of your design, the shape and size your patch requires, the type of patch you select, the number of colors chosen, attachment methods and the quantity you order. Understanding how those factors relate to each other can help you order patches at a price that fits within your budget.
Design and Art
Start with your design. Do you want a simple, basic look, or something with more intricate detail? The greater the detail, the more likely you will need a larger patch and/or more expensive patch type. Very generally speaking, the more complex your design, the more costly patch type it's likely to need. (more on that later.) We'll consider those factors one by one.
Size and Shape
The basis for patch pricing starts here. It's simple math: the bigger the patch, the more it costs. Custom shapes can affect the patch size too. Keeping your artwork simple can keep the patch size down, but some designs will just need more space.
Color Choices
The number of colors in your design can affect how much your patches cost. Typically, patch providers charge extra for more than seven colors on a design. If your design features seven or fewer colors, your patches will be less expensive.
Patch Types
Cheap custom patches are available in several different types. The type of patch you need will depend on your budget, your artwork and how you want to attach it to a garment.
Embroidered Patches
Embroidered patches are the most popular patch type. These are the classic patches that feature a design of thread sewn (embroidered) into a twill backing material.
Embroidered patches are usually the least expensive patch type. However, they're not right for every need. Intricate designs are hard to reproduce. A too-crowded design will have illegible text and a "muddy," poorly defined look. They're best for simple, uncluttered logos and text.
Woven Patches
Woven patches use a thinner thread than embroidered ones. That gives them more room for greater detail. They're typically a little more costly, but allow a more complex design. Like embroidered patches, they can fray eventually, and fade from exposure to weather.
PVC Patches
PVC patches are usually the most expensive patch type. The tradeoff is that the soft, rubberlike material allows a printing process that can give you near photo-quality details that woven and embroidered patches can't match. They also are more durable and better suited for rugged environments.
Be aware that PVC patches cannot have iron-on backing.
Backing Style
The backing style of your patches also will have a significant effect on the price of your cheap custom patches. Consider carefully whether you want your patches to be attached permanently, the use you intend for them and the material of the garment(s) you'll be attaching them to.
Sew-On Backing
This is the lowest price point for backing. It's simply the patch backing with no added material. You attach it to the garment(s) by sewing it on, either by hand or with a sewing machine. This is the most permanent attachment style, and will likely last as long as the garment you're putting the patch on.
Iron-On Backing
Iron-on backing costs a little bit more, but it can make attaching your patches much easier and faster. You don't have to sew anything. You just press the patch onto the garment with a hot iron or heat press. The heat melts a special adhesive into the fibers of the garment. About five minutes and you're done.
Be aware that iron-on backing is not suitable for every type of fabric. Many fabrics, including leather, silk and most stretch fabrics can't withstand the heat required. When in doubt, don't use an iron-on backing. Check with an iron-on patch guide for additional information.
Iron-on backing, while considered permanent, can eventually loosen from multiple washings. You can add a stitch or two in a few spots to make them truly permanent.
Velcro® Backing
Hook-and-loop fasteners (Velcro®) are a popular option for military morale patches, police patches and others that need to be easily removable. They're the ideal way to transfer patches between garments or quickly change patch styles. It will increase the cost of your patches, but it can be the solution to your needs.
Order Quantity
It seems logical that the minimum number of patches you can buy would be the least expensive option. And in many cases, that's true. But in other cases, you actually could save money by buying more patches.
Most patch providers require a minimum order quantity. Above that, they offer price breaks at specific quantity levels. The per-unit cost of patches goes down as the quantity goes up.
For example, let's say you need 250 patches. If your provider offers a price break at 300, you could end up paying less for 300 patches than you would for 250. It pays to check.
Remember, Cheap Doesn't Mean Low Quality
Cheap custom patches, from the right supplier, can be just as attractive, just as durable and just as effective as their costlier counterparts. At Patches4Less.com, we will work with you to ensure your patches meet both your quality standards and your budget.
We're dedicated to first-rate patches at unbeatable prices, with outstanding customer service. Let us show you how affordable custom patches can be, and what a positive impact they can have on your brand or cause.
---
Rick Cundiff
Content Director, Blogger
Rick Cundiff spent 15 years as a newspaper journalist before joining TJM Promos. He has been researching and writing about custom patches and other promotional products for more than 10 years. He believes in the Oxford comma, eradicating the word "utilize," and Santa Claus.