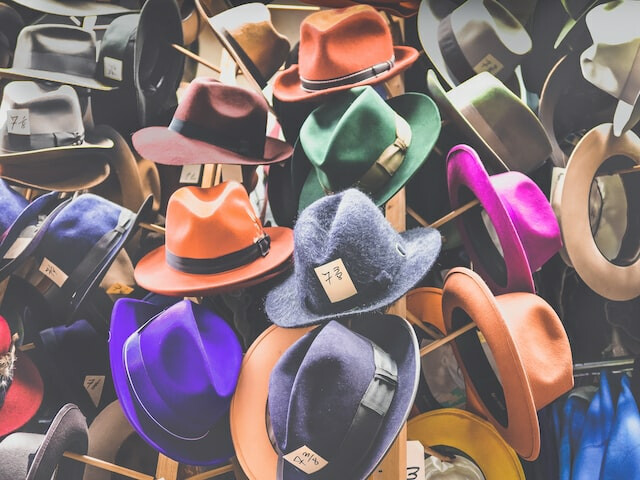 Custom Patches For Fall Hat Month 
Fall is right around the corner. The weather is changing as summer slowly fades away, and it's time to break out some new headwear for the cooler months ahead. October...
Fall is right around the corner. The weather is changing as summer slowly fades away, and it's time to break out some new headwear for the cooler months ahead. September is Fall Hat Month, a time to switch out your shady hats of summer for some cool-weather head protection. Stylish felt and fabric-styled hats reign supreme during fall months, providing warmth and protection on any adventure.
During Fall Hat Month, men and women are encouraged to break out their favorite fall headwear fashions, including fedoras, wide-brim hats, beanies, and bucket hats. While you're at it, why not customize your favorite hat with a custom patch? Patches adorn hats of all types, adding a personalized touch and a sense of style. Let's learn more about Fall Hat Month and custom hat patches.
A History of Headwear
The history of hats dates back to some of the earliest days of humankind. Hats appeared in tomb paintings from Egypt, showing a man wearing a straw hat, dating to around 3200 BC. Early hats were simple, including the Pileus, a brimless cap, and the Phrygian cap, a conical cap with a bent top.
Hats became an indication of social status in the Middle Ages. Women wore simple scarves or headdresses that signified social status, while structured hats for men became increasingly popular. Hats evolved with the times becoming more creative and unique.
During the 19th century, many other hat styles were introduced, including wide brims and flat crowns. As hats became more stylish, they became even more popular and, sometimes, a tradition. For exmaple, hats are a custom at horse racing events. The tradition began at the Royal Ascot in Britain. Other horse racing events adopted the practice, including the Kentucky Derby. Striking, colorful, and flashy hats were popular in the 1980s, continuing to evolve with the times into the early 21st century with incredible new designs.
Observing Fall Hat Month
There are more than a few ways to observe Fall Hat Month. The best way is to choose some new seasonal headwear to add to your style. Of course, you can dust off some of your favorites that you already own. Finding the right hat might require some help from friends.
Remember, hats, like any other fashion accessory, portray the season. Choose wisely. There are many fashionable hats to choose from for men and women. Make sure you get a hat that fits your head and your taste.
You can also use #FallHatMonth on social media to interact with fellow hat-lovers. Another way to observe the month is by designing a custom hat patch for a new hat or an old favorite.
Custom Hat Patches
Patches are a great way to personalize your style, spread a message, or showcase your hobbies and interests. Custom patches are not just for shirts, jackets, and vests. Custom hat patches are a nice touch for any style of hat. They are commonly seen on baseball caps, though you can apply them to almost any hat.
Hat patches are great marketing tools for businesses and brands. Include personal details and design a patch that stands out. Use custom patches to spread a message, or add them to hats for your upcoming fundraiser.
Fall is a time of change, and Fall Hat Month reminds us to elevate our headwear selection. The cooler weather calls for hats that will protect us, while custom hat patches are a great way to add style to any hat. Let's work together to create a custom patch that marks Fall Hat Month and fits the season's styles. Patches stand out, and with Fall Hat Month upon us, why not honor it in style?
---
Jesse Daugherty
Blogger
Hello, I'm Jesse Daugherty, a music enthusiast, sports aficionado, and an avid supporter of the arts. I'm a writer and content creator. For the past 5 years, I've shared my knowledge of custom patches and other promotional products, exploring their designs, meaning, and purpose.